mcscraic
Primary tabs
I have 2405 stories published in 19 collections on the site.
My stories have been read 1005189 times and 41 of my stories have been cherry picked.
4 of my 471 comments have been voted Great Feedback with a total of 4 votes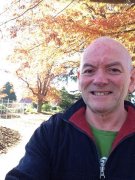 I like writing songs and won first prize in the Billboard music song awards in 2008 for a song I co-wrote with Robert and Wendy O'Hearn .
The song is called Lost Sons Of Erin and is on a CD called Sonicarious by Robert O'Hearn .
I present and produce a radio program each week .
I have worked in aged care and community health since 2005 .
Soccer ,Writing Songs , Playing my guitar , Going to church , photography , Art ,Writing Plays and short stories ,
4 of my comments have received 4 Great Feedback votes
1 Vote
Great comment Penny
Posted on Fri, 17 Jul 2020
I love the way you put that , Penny , ":Like fresh air through an open window to your soul " 
That's freedom and being able to be who you are .
Regards , ...
Read full comment
Posted in The Window Of My Dreams
1 Vote
Lovely Work
Posted on Sun, 02 Dec 2018
The message of Paul's love for Jesus comes through and the mission he had achieved .
Lovely work , 
Read full comment
Posted in Saul/Paul of Tarsus