Kieren Fallon - The Biography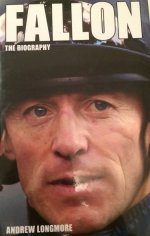 Sat, 24 Nov 2018
A sentence on the inside of the fly cover of this book sums up Kieren Fallon's career in the saddle:
'Triumph and disaster have been inseparable companions in Fallon's controversial career.'
When I mentioned to some friends that I had read this book all of their responses were negative about the him.
'Oh, the one who fixed races.'
'Never backed anything he rode, never sure if he was going to try or not.'
'Didn't he get banned for drugs?'
I guess their responses are a reflection of our almost morbid interest in bearing witness to see heroes fall and have their weaknesses and frailties exposed that we have a pathological dread of suffering from ourselves.  And in despite of being cleared in the Old Bailey in the Top Cees case.  All of these responses came from people who follow racing to varying degrees.
What none of them knew about, and I will admit to as well, is exactly where Kieren Fallon came from.
He was born into a non-racing family in very rural Ireland.  From an early age he knew he was going to be a jockey.  It was not a question of flippantly saying 'I want to be a jockey'. It was very much 'I am going to be a jockey'.  As his family did not have any horses on their small farm the only quadrupeds he could ride and dream about crossing the winning line at Epsom or Ascot were bovine and not equine.  Kieren was small for his age but because he had been helping on the farm, he was able to build an enormous core strength which was to pay handsome dividends when he reached his career destination.  Always a sports person rather than an academic he preferred the hurling pitch to the classroom. Even joining a boxing club which involved a weekly fourteen mile round trip walk without complaint to and from the training venue.  In one boxing competition he was drawn against an opponent much bigger than himself.  His coach tried to dissuade him from entering the ring.
'He's got two hands, same as me' was the response before his opponent was counted well and truly out before the end of the third round.
The triumphs in the saddle started on 19th June 1984 at Navan racecourse on a nervous mount named Piccadilly Lord.  That was important as any first winner for any jockey is.  But it was important as it confirmed that Kieren Fallon had a natural gift as a rider to settle and relax the most nervous of horses.  In the business they call this 'having soft' or 'good hands'. That first success was followed by six UK Jockey Championships, three Epsom Derbys, four Oaks, two Arc de Triomphes, numerous other Group 1 wins and achieving a peak of 204 winners in 1998 one the years he won the championship.
The book touches on the grunt work and pain that top jockeys, like all sports success stories, have to go through in varying forms of punishment between their own triumphs.  For a top jockey the battle against the scales, maintaining fitness and the countless miles in the car chasing winners from Musselborough in Scotland to Goodwood on the Sussex Downs and every course in between where there may not be the glamour of the major meetings or the prize money but the prospect of riding a winner. Sometimes riding up to 12 horses a day competitively which is a feat plus two or three exercise rides in the morning before competition begins.  There is no other sport that works at that level seven days a week. That is the driver, the motivator, the drug, the addiction that keeps them going.  Footballers play three times a week at the very most.  Rugby players much the same.  Tennis players in tournaments daily as they work through the rounds. All of them only compete once a day and in one place.  Any travelling they do is without the pressure of getting to different venues to work let alone getting to at least two different venues a day, sometimes during the height of the season.
Take away that stimulant and unless they have a strong will, strong support away from racing and the slightest chink in their psychological strength something else will sweep in to replace it.  From that aspect I think that all of us do have addictive traits within us but we are able to sublimate them through our own lives that are not run at such a frenetic pace as a top jockey.
When I saw Kieren Fallon being dragged through the courts, picking up suspensions for drugs and hearing he had gone into rehab for alcohol I couldn't understand why someone who has such a talent always seemed to be on the edge of disaster.  Then, after reading this and getting an insight to his background, his climb to the top and his fights to stay there my views changed. They changed from bewilderment almost to empathy as I tried to visualise what I would have done given a chance to live through the experiences he has.  What would my reactions be?  What weaknesses in my own personality would be opened to the world? The book almost puts the reader into his shoes and boots.  It then brought to mind 'There but for the grace etc……'.