Unseen Britain - The Smugglers Apprentice, Scarborough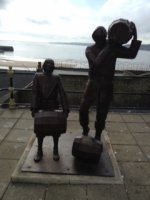 Sun, 21 Aug 2016
The 'Smugglers Apprentice' was installed in Merchants Row in Scarborough in September 2012 and is the work of the artist, Ray Lonsdale.
The apprentice may only be twelve or thirteen years old. He may have been forced into the illegal work of smuggling though desperation for money to feed himself and his family.  He may be working for his father to carry on the family 'business'.  Living in a maritime community he would be fully aware of the dangers of smuggling.  Not only encounters with the ocean but worse, much worse.  Encounters with the men from the excise leading to arrest, incarceration in a foetid prison, trial, verdict and then the gallows.  He may well have seen this inexorable tide of tragedy drown friends and others in his family
The master has taught the apprentice well as both of them are looking in the same direction, inland with their backs to the sea.  Anxious to avoid the excise men before they can hide their contraband somewhere safe.
There is an inscription on the barrel at the master's feet:
When someone whispers, whispers back
When someone shouts, run
Unfortunately the notebook I copied the whole of the verse into has gone astray so I cannot give a full quote.  What I do remember is that the verse ended by referring to the dangers of a man with a gun, presumably the excise man.  These are sage words for a master to pass on to an apprentice.
I first saw this statue in the morning sunlight.  It's image was reflected in silhouette in just one pane of a window of a shop opposite showing models of the types of ship that the smuggler and his apprentice would have collected their contraband from.  A reflection from a bygone era.
To the right of the statue, from the photograph, are benches that look out across the old harbour, South Bay and the wider North Sea.  These benches were empty when I first saw the sculpture in the morning.  By lunchtime they were full of people enjoying their fish and chips under the ever watchful eyes of the smuggler and his apprentice.  Their own silhouettes were reflected in different panes of glass.  A reflection from a new era.