Playlist: For a Road Trip in Spring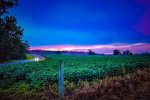 Thu, 09 Dec 2021
2 likes
If you like, open your favorite music streaming service, generate the playlist I've detailed below, and listen along with me.
Playlist Title: For a Road Trip in Spring 
Total Running Time: 38 minutes, 16 seconds
Track 1: "All I Need" by Susanna Hoffs 2:33
         - from the 2012 album Someday
Track 2: "Bedbugs and Ballyhoo" by Echo & the Bunnymen 3:29
         - from the 1987 album Echo & the Bunnymen
Track 3: "Champions of Red Wine" by The New Pornographers 3:41
         - from the 2014 album Brill Bruisers
Track 4: "Atop a Cake" by Alvvays 3:20
         - from the 2014 album Alvvays
Track 5: "Kelly" by The Pains of Being Pure at Heart 3:04
         - from the 2014 album Days of Abandon
Track 6: "Kaputt" by Destroyer 6:18
         - from the 2011 album Kaputt
Track 7: "Strange Overtones" by David Byrne and Brian Eno 4:16
         - from the 2008 album Everything That Happens Will Happen Today
Track 8: "The Stars (Are Out Tonight)" by David Bowie 3:57
         - from the 2013 album The Next Day
Track 9: "Los Angeles" by the bird and the bee 3:29
         - from the 2015 album Recreational Love
Track 10: "Going Home" by Sophie Zelmani 4:09
         - from the 2002 album Sing and Dance
This playlist takes me back to my younger days, my early 20s, those carefree times when I seemed more effervescent with my surroundings. I picture myself doing what I used to do: Going for long aimless drives through the straight, rural roads of Kansas; zipping through fields of young wheat and barley; gazing dreamily at landscapes that never end. I roll down the window to feel the fresh air, the fragrance of spring flowers, rush into my face and through my hair (my hair that is no longer there). What I miss most is the excitement I felt, a flittering behind my throat, as I dreamed about my future. The mood of this playlist is hopeful and bittersweet, exciting and aware, hazy and a little rough around the edges, but on the whole: tidy.