Opening Day Part two Downtown Abbey (mary)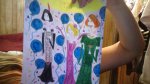 Sat, 24 Sep 2016
Mary was standing on the balcony of her room overlooking the entire estate,Her lacy purple dress blowing in the wind.She was drinking a celebratory scotch and a eating part of a savory meat pie Anna had brought.She had told all the old servants and everyone else that came there was really no need to bring anything, but they all had brought food anyway.
Even Mrs. Hughes ,the former head housekeeper, who had to be at least 80 brought a disastrous looking Jello mold that she was extremely proud of. Mary  threw it  in the rubbish bin after the thing moved twice by itself on the plate and she told Mrs.Hughes everyone ate it already.Thank God the old bat bought the much needed lie.
Mary will have to ask the board on Tuesday about the suggestions on how to work the parking situation ,it was an absolute disaster for every one.She will have to ask George what he thinks , if she ever can ever find him.
She hasn't seen George since they took a group photo earlier in the day.He probably decided to turn in early.He was in a pouty mood  yesterday after she told him to stop standing around talking to that serving girl.The fast one that thinks she is Marilyn Monroe.Other than that, the whole day was hectic but an absolute success.
They went through 200 gallons of No Shrinkin' Violet and a 100 gallons of the new pale ale called Poor Man's Champagne that had just debuted yesterday. The Americans really seemed to enjoy the sweeter lighter beer.They wished that it was sold in the United states.Her company had never had any factories in the U.S. Maybe they would do a limited release of the pale ale in major american cities and see how it all went.
Marigold,her niece had painted this beautiful picture of Mary, Rose and Edith during the end of the roaring twenties at the New Year's Eve party when the host had  balloons and streamers literally floating out of the floor.She really was  a talented artist that she could glance at a photo and turn into a highly detailed work of art.
New Year's 1929 was one of the best days of her life.Everybody was dancing ,jazz  playing everywhere.Rose stood between her and Edith and made them laugh and forget what they were fighting about.Mary's mother made a big deal about the original photo because it was her dream to have one picture of her two daughters,not staring daggers at each other. It was the last holiday  the whole family was all together.Mary's mum and dad died New Years Eve 1930 without any  warning.
Yesterday was so busy , it was impossible to have a real conversation of any kind. It was  rather nice seeing everyone,especially Anna again.Anna retired from the beauty shop and lived at her son's vicarage in kent.The other son was in medical school.Anna was one of the few female relationships she had sustained over a lifetime. 
She knew too much about Mary and still liked her.Most of the woman around town appreciated that she created steady jobs here during the depression, all the things she did to help the war effort.The hospital her family had practically donated.But they did not want to be her friend.
Nobody from the old days had recognized Daisy.Who looked better now than she ever had in her youth as a char maid ,then assistant chef at the house. She married Mr. Tom Branson who was the  beloved mayor here during the war.They fell in love at a Christmas tree drive for poor people in the mid 30's where he was playing Father Christmas.He seemed content with his four ,soon to be five grandchildren and Daisy.
She  had a very interesting conversation about linking Daisy's hotel with the "No Shrinkin' Violet " Taproom if all goes well.Mary thought she saw Thomas,who had been a butler there for a while, there waving at her and then again taking Mrs. Hughes back to the library where she volunteered and lived.
But that had to be a mirage. He had gotten accused of all sorts of war crimes and had disappeared before they could make him talk.Most of what they claimed was lies.But Thomas rubbed most people the wrong way and no one cared to dispute what may of happened. 
Rose was her silly self, running all around making sure everybody was having a good time.Mary often wondered how Rose stayed so genuinely cheery all the time even though her life certainly had been more tragic than her own.Rose 's mother was a nightmare.Rose's husband lost all of their money in the crash and then the fool ended it all. She would have never came back from that,But somehow Rose had.
She really must find George and go over preparations for the meeting Tuesday.She will find George someone suitable ,if she can ever find the time ,so he isn't so lonely.But all that was left in his room on the bed was a note.He eloped with that damn serving girl.George needed his own life and felt smothered  and completely emasculated by her.Mary was crushed.They were supposed to be a team and eventually all this would be his. What would she do now?
                                                         (about an hour later)
Florence ,the maid is buzzing her that someone is here to see her.Which is strange at this hour.As she walks down the spiral staircase, she can see the man standing in the foyer.It is the man from the party.The one who she thought was Thomas, that kept waving at her. But it's not him , this man is taller,powerful looking  with a craggy tanned face of an individual who spends a lot of time outside.He looks very familiar,If only she could remember his name.