The Craven Danger Radio Hour Video - Part Two _ The Biggest Gun Goes British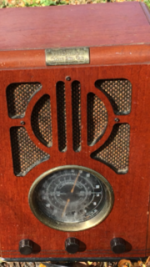 Sat, 24 Oct 2015
https://www.youtube.com/watch?v=k-3qnZnuoWo
The Craven Danger Radio Hour
In Under Five Minutes
D
Craven Danger, where are you?
           G
I'm in trouble
                                         D
Won't you lend me your hand?
D
I saw your ad in the paper
            G                             D
And a dollar a day sounds grand
Hello, hello. Manny Morose at your service. I'm afraid Mr. Craven Danger is unable to, um, speak with you this evening. Owing to the fact I have given that big fat lip a his a big a fat lip of its own. Pity that. But one must do what one must do to maintain dominance in the competitive field of urban gumshoeing. What is that, my dear? No. Not gum chewing. Gumshoeing! Oh, go and have another scotch, why don't you! You infernal hooch maven! That was Hortense, my valued secretary and confidant. I trust her implicitly because I know that what ever I say will go in one ear and makes its way, with the speed of a drunken gazelle, out the other.
Where was I? Ah, yes. As you've no doubt heard, last week I challenged the insufferable Mr. Craven Danger to trade blows with me at Ned's tavern. I would have made it a battle if wits, but seeing as he is severely disadvantaged in that department, I opted, instead, to give his bulbous nose a sound thrashing. And, much to his credit, the old boy gave it all he had. He moves with the swiftness of a man fighting his way out of pond of quick-drying cement. But I do give the man high points for his insufferable gumption. No, Hortense! Not gum-shoe! Gump-tion! Oh, hell woman, bring me whatever it is you're drinking, and make it a double. We may as well start the party early. Now where was I once again? Ah, yes. If you're listening, Mr. Danger, be advised that I will no longer tolerate your presence in this neighborhood. I am, and shall remain, the biggest gun in town.
And you, dear sir, are advised to remove your private-eye shingle from the door upon which it hangs, or you, dear sir, shall be hanging along side it! I am, and shall remain the only P.I. this neighborhood will ever need.
Do you hear that, Mr. Danger? You shall rue the day you ever crossed my path! Manny Moreso here, signing off with a wave of my hand and a song in my heart. For . . .
I've got a lovely
bunch of coconuts
Ones I shall be
bouncing off your head
big ones, small ones
Ones that can make
quite . . . dead
Till the next time we meet, Mr. Danger. I bid you a pleasant adieu.  What was that Hortense? No, not achoo! Adieu! Go save your gesundheits for the kaiser!
Good bye, dear friends. Goodbye.