Remembering Father -11 more from Canton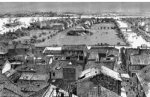 Wed, 28 Jan 2015
From my diary:
January 2
We are now living on Shameen,(pictured above) in the beautiful house belonging to the firm of Jardine, Matheson & Co. and being used by the Smiths. All the English business connected with tea, silk, and other productions, is transacted in these handsome dwellings of stone or brick, each standing in its tropical garden, with a wall or ornamental railing or bamboo hedge surrounding it, but without any outward sign of commerce at all.   It reproduces English life as far as possible, and adds a boundless hospitality of its own, receiving all strangers who are in any way accredited, and many who are not.  
The community at Shameen at present consists of forty-five people - English, French, and German. The establishment of the electric telegraph has not only favoured business, but has enabled some of the senior partners of the old firms to return home, leaving very junior partners or senior clerks here, who receive their instructions from England. Consequently, in some of these large family dwellings there are only young men keeping bach. There are a pretty English church, a club bungalow, a book club, lawn tennis and croquet grounds, and a small hall used for dancing, lectures and amateur theatricals. No wheeled vehicle larger than a perambulator ever disturbs the quiet. People who go into the city are carried in chairs, or drop down the river in their luxurious covered boats, but for exercise they mostly walk on the bund, and play croquet or lawn tennis. In this glorious weather the island is very charming. It is possible to spend the whole year here, as the tidal breezes modify the moist heat of summer; but the English children look pale and languid even now.
January 4
Isabella writes letters to her sister all the time, and often reads them out to me, to see if I agree with what she has written. 
Today we went to visit the Five Storied Pagoda. You can see the city at its best, and it is apparent that it is surrounded by a high wall, beyond which here and there are suburban villages, some wealthy, others mean and mangy.
Isabella brought out her well worn guide book, A Seven Months' Run Up and Down and Around the World by James Brooks.   As she remembered that he had something to say about the Five Storied Pagoda, she found the page and quoted it to me.
"Let me show you how things are done in Canton. Let me add here, we  had "tiffin," or second breakfast three or four miles from "home," on the heights of a five-storied pagoda, where the city was at our feet, and the countryside, if graveyards can be a countryside, behind us. Kwan-Yin-Shan is the Chinese name of our breakfast pagoda. What I call attention to, is the skill with which Chinamen will improvise you a meal anywhere. In the baskets of coolies, strung on poles over their backs, and through the narrowest streets, were conveyed to the tip-top story of this pagoda, the finest of crockery, the choicest of meats and wines nothing broken, and all served up with skill and care.   Nothing more impresses a man in all China than the power of men to do business without beasts of burden or vehicles of any kind. A coolie does not cost half so much to keep as a horse, or an ass, and will live and thrive on what a horse would not touch.  Every thing goes on men's shoulders, or backs, or heads. The huge block of granite is taken up, and taken off, by six, or eight, or ten, or more, coolies, with poles.  All the commerce and all the trade of these tens of thousands of people are done on poles, on men's backs. Hence, these coolies become wonderfully muscular. Their shoulders must be as tough as cast-iron, and the muscles of their legs as firm as a boxer's arms."
"Who is this James Brooks that you keep quoting?" I asked her.
"He was a very important American, first a senator from Maine, and then he moved to New York and established the paper, the New York Express, He was elected to the Congress in 1863 and again in 65 as a Peace Democrat (one against the Civil War) and although he was out of office for a bit, he was reelected again in 1867 and remained there until 1873, when he died. He spent seven months in 1871-2 touring the world (including Hong Kong and Canton) but contracted a fever in India and died in 1873."
Anyway, going back to my description of what we were doing from the Five Storied Pagoda, within the city lies the Tartar city, occupied by the garrison and a military colony numbering about twenty thousand persons. This interesting area is walled round, and contains the residence of the Tartar General, and the consulates of the great European Powers. It is well wooded and less densely built than the rest of Canton. Descending from any elevation one finds oneself at once involved at any and every point in a maze of narrow, crowded streets of high brick and stone houses, mostly from five to eight feet wide. These streets are covered in at the height of the house roofs by screens of canvas matting, or thin boards, which afford a pleasant shade, and at the same time let the sunbeams glance and trickle among the long, pendent signboards and banners which swing aloft, and upon the busy throng below.
Every street is paved with large slabs of granite, (very unusual for Chinese cities, says Isabella) and under each of the massive foot-ways (for carriage-ways there are none) there is a drain for carrying off the rain-water, which is then conveyed into six large culverts, from them into four creeks which intersect the city, and thence into the river. This makes it a much more pleasant smelling city than the other ones that Isabella has visited. These large drains are supervised by the prefect, who is bound by an ancient law to have them thoroughly cleansed every autumn, while each of the small drains is cleansed by the orders and at the expense of the vestry of the street under which it passes. Canton is a very healthy city, and diseases of any kind rarely gain a footing in it, might be attributed to the drains and also to the excellent plan of sending out the garbage of the city daily to fertilize the gardens and fields of the neighborhood.
Besides the watchmen that Vandy told us about, eleven hundred military constables are answerable for the good order of the city and its suburbs, and a thousand more, called the Governor's brigade, garrison the outer gates in the city wall and several interior guard-houses, all the inner gates being garrisoned by Tartar troops. In consequence of so many precautions, which are carried out very thoroughly, fires and burglaries are much minimalised, and the proverb 'as safe as Canton' appears to have a substantial foundation. The barricaded streets at night have an eerie solemnity about them. One night, Mrs. Smith, Isabella and I prowled through some of them quite unattended, on our way back from a friend's dwelling, roused up the watchmen to unlock and unbar the gates, saw no other people astir, went down one of the water streets, hailed a boat, and were deposited close to the door of our own abode about midnight; such an event being quite a common occurrence in this quarter.
Isabella writes, "The public buildings and temples, though they bear magnificent names, are extremely ugly, and are the subjects of slow but manifest decay, while the streets of shops exceed in picturesqueness everything I have ever seen."  The interiors of the shops are lofty, glass lamps hang from the ceilings and large lanterns above every door, and both are painted in bright colours, with the characters signifying happiness, or with birds, butterflies, flowers, or landscapes.
The streets in which the poor dwell are formed of low, small, dark, and dirty houses, of two or three rooms each. The streets of dwellings are as mean and ugly as those of shops are brilliant and picturesque.
Isabella is so enjoying this city. She says she grudges the hours that she is obliged to spend in sleep; a week has gone like half a day, each hour impressing and fascinating us with Canton.
January 7
In the week in which we have been here we have given ourselves up to ceaseless sight-seeing. Almost the first sight that we saw on arriving in this quarter, which is in Canton itself, was a number of Christian refugees, old men, women, and children, who, having fled from a bloody persecution which is being waged against Christianity about ninety miles from Canton, are receiving shelter in the compound of the German mission. It was late in the evening, and these poor refugees, who had sacrificed much for their faith and had undergone great terror, were singing hymns, and reading and worshipping in Chinese. In the place from which they came a Christian of wealth wished to build a church, and last week he was proceeding to do so, when the heathen, instigated by the district mandarin, seized upon him and four other Christians, and when he would neither say the word nor make the obeisance which is regarded as equivalent to denying Christ, they wrapped him in cotton wadding soaked in oil, tied him to a cross, and burned him, but nothing rocked his faith. They cut off the arms and legs of the four other persons, tied crosses to the trunks, and then burned them. This deed, done so near Canton, has caused great horror among the foreigners both here and at Hong Kong, and the deepest sympathy is felt both with the converts and the missionary priests.
On another day we were carried eighteen miles through Canton on a chair by four coolies, Mr. Smith and his brother walking the whole distance - a great testimony to the invigorating influences of the winter climate. As to locomotion, one must either walk or be carried. A human being is not a heavy weight for the coolies, but it is distressing to see that the shoulders of very many of them are suffering from bony tumors, arising from the pressure of the poles.
During lunch, two nice Chinese boys sat by us, and Mr. Smith practiced Chinese upon them, till a man came out angrily and took them away, using many words, of which we only understood "Barbarian Devils." The Cantonese are not rude, however. A foreign lady can walk alone without being actually molested, though as a rule Chinese women are not seen in the streets.
The shops just now are filled with all sorts of brilliant and enticing things in anticipation of the great festival of the New Year, which begins on the 21st. Streets are given up to shops of one kind. Thus there is the Jade-Stone Street, entirely given up to the making and sale of jade-stone jewellery, which is very costly, a single bracelet of the finest stone and workmanship costing £600. There is a whole street devoted to the sale of coffins; several in which nothing is sold but furniture, and so on, every street blazing with colours, splendid with costume, and abounding with wealth and variety.
In an extended tramp among temples we did not see a single male worshiper or a thing to please the eye. The Confucian temples, to which mandarinism resorts on certain days to bow before the Confucian tablets, are now closed, and their courts are overgrown with weeds. The Buddhist temples are hideous, both outside and inside, built of a crumbling red brick, with very dirty brick floors, and the idols are frightful and tawdry. We went to several which have large monasteries attached to them, with great untidy gardens, with ponds for sacred fish and sacred tortoises, and houses for sacred pigs, whose sacredness is shown by their monstrous obesity. Worship consists in many prostrations, in the offering of many joss-sticks, and in burning large squares of gilded paper, this being supposed to be the only way in which gold can reach either gods or ancestors.
Isabella said, "I like the faces of the lower orders of Chinese women. They are both strong and kind, and it is pleasant to see women not deformed in any way, but clothed completely in a dress which allows perfect freedom of action." The small-footed women are rarely seen out of doors; but the sewing-woman at Mrs. Smith's has crippled feet, and I have got for her shoes, which are too small for the English baby of four months old! The butler's little daughter, aged seven, is having her feet bandaged for the first time, and is in torture, but bears it bravely in the hope of getting a rich husband. The sole of the shoe of a properly diminished foot is about two inches and a half long, but the mother of this suffering infant says, with a quiet air of truth and triumph, that Chinese women suffer less in the process of being crippled than foreign women do from wearing corsets! To these Eastern women the notion of deforming the figure for the sake of appearance only is unintelligible and repulsive. The crippling of the feet has another motive.
Yesterday we turned aside from the street called Sze-P'aai-Lau, into a small, dirty square, on one side of which is a brick wall, with a large composite quadruped upon it in black paint, and on the other the open entrance gate of the official residence of the Naam–Hoi magistrate. Both sides of the road passing through this square, and especially the open space in front of the gate which leads into the courtyard of the Yamun, were crowded with unshaven, ragged, forlorn, dirty wretches, heavily fettered round their ankles, and with long heavy chains padlocked round their necks, attached, some to large stones with holes in the centre, others to short thick bars of iron. Two or three, into whose legs the ankle fetters had cut deep raw grooves, were lying in a heap on a ragged mat in the corner.
These unfortunates are daily exposed thus to the scorn and contempt of the passers-by as a punishment for small thefts. Of those who were seated on stones or who were kneeling attempting to support themselves on their hands, most wore square wooden collars of considerable size, weighing thirty pounds each, round their necks. These cangues are so constructed that it is impossible for their wearers to raise their hands to their mouths for the purpose of feeding themselves, and it seemed to be a choice pastime for small boys to tantalize these criminals by placing food t