Night Terrors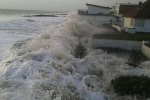 Sat, 25 Jan 2014
Here in this room
Which they say is my home
I rock in my chair;
An old woman alone.
No hope of leaving;
Constantly grieving
Nowhere to hide
From those who should care
All bustling around
On the landing outside.
I try hard not to shout
Recalling the sound
Of my Father's hard breathing -
 Long nights of despair
When I knew you were there.
I needed you, Mum -
And I cried and called out -
But you did not come.