YELLOW ROSE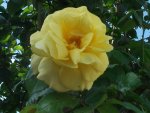 Sat, 27 Sep 2014
Bold and beautiful  
An open smile that lit the air around
As if the sun dwelt deep inside your soul,
Shining through diamond raindrops
On emerald leaves ;
Warming the alabaster smoothness
Of your translucency.
I think I hear a sigh – but there is no sound.
Your song is left unsung.
As I reach out to pull you to me,
Inhale your fast fading fragrance;
A spiteful thorn pierces my skin –
Then I understand.
I see.the bud nestling below
That full-blown bloom,
And recall the years
Your thorns grew sharp like claws
To protect your young.
So gentle; yet, so brave.                                                               
Softly I kiss those rare green eyes,                    
The once gold hair
And your sweet, smooth cheek
Like a tender lover;
I lay the yellow rose upon your breast
And shed warm tears
As a drop of blood falls
From my wounded hand.-
A rose for a Rose, my Mother
To go with you to your grave.