Eliyanna Part One.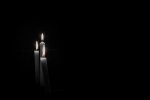 Thu, 28 Sep 2023
I got up as usual today. Listened to my music, sent texts, looked on Snapchat, caught up on Facebook.
I then went in the shower, then after I had gotten dressed, I had breakfast, one slice of toast and marmite and a cup of tea.
I then did my hair and make-up.
I checked my bag, I had my homework was in there, and made sure I had my violin with me.
Dad had already gone to work, today is his birthday, we are all meeting up later at Gallio's it is our favourite place to eat pizza, we go there only on special occasions. I am really looking forward to it.
Mum works nights, she had not long gone to bed, Tommy my younger brother, he was ready.
We left the house, I walked him to his school, which is near our home and I went on to the bus stop.
Kayla and Jakkie was already waiting for me, we were excited, about the meal out tonight, as Dad had told me, "Kayla and Jakkie can come too."
We talked about what we would wear tonight. I told my best friends, "I'm wearing my new pink dress." They knew which one it was, as they were with me when I bought it.
We got off the bus, and there he was again! He made me SO nervous and then everything happened so fast, suddenly without warning, he took out a huge knife and stabbed me in the neck!