YOU LOVE ME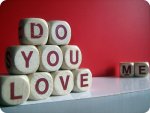 Fri, 05 Dec 2014
we've often said that group of words
the trio, "i love you"
we know we love each other
and so now here's what we do
.
instead of saying "i love you"
for all eternity
we've twisted things around a bit
and now say "you love me"
.
it's not like it's an order
or a question to be asked
it's only a reversal
that we've suddenly unmasked
.
let's start a revolution
for old standards need to change
so let's all take a vow
this little phrase, we'll rearrange
.
"i love you" is okay , i guess
it has a history
but i think in the future
we'll be saying "you love me"