Love … protects, trusts, hopes, perseveres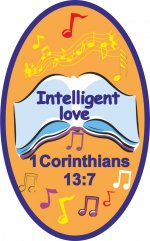 Sun, 22 Apr 2018
[Continuing the hymn-for-Sundays series]
Love … always protects, always trusts, always hopes, always perseveres' (1 Corinthians 13:7a)
Love does not assume evil motive,
but looks for some good intent;
not gullible, foolishly trusting,
but hopes that no ill is meant.
       Protects and trusts,
       Love hopes and protects, on and on.
       Love trusts, and hopes,
       love hopes and protects when it can.
Love shows it expects kindly actions,
encourages such from all,
protecting the one who is slipping,
supports, helps him not to fall.
And show that you really believe that
it's possible they could reach
a bit better standard of loving
– come, hear the Lord Jesus teach.
With God mighty changes can happen,
and battles with sin are won.
He hears all unhappy ones calling,
and gladly will help each one.
Tune: Redeemed