March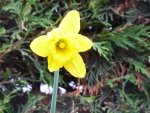 Mon, 02 Mar 2015
(as with 'January'  and 'February' this is based, though to a lesser extent, on 'Mawrth' [March] by Eifion Wyn)
What do I see? a daffodil
woken up to shiver, glow
smile of spring, despite the chill:
unseen, the buds and bulbs regrow.
What do I see? some leaves, crushed tight,
unfold their creases and expand –
the dormant life let out to light
soon green will spread across the land.
What do I hear? the birds in song
chorus of voices sweet and skilled,
then later gripping twigs they wing,
slip into bushes, nests to build.
What do I feel? the warmth increases:
some rise from sickbeds, feeling stale,
emerge, and find fresh air releases
health and bloom to faces pale.