Only Jesus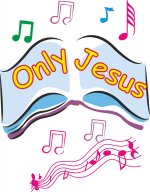 Sun, 14 Jul 2019
[Continuing the hymn-for-Sundays series]
Only Jesus could pay debt
of punishment we'd earned.
Only he has righteousness
to cover us – adorned,
protected, clean, with beauty
to come before God's throne,
clothed in his perfect goodness:
I trust in Christ alone.
Only Jesus can improve
my ingrained poor ways –
Teacher sculpting, sanctifies,
through all my earthly days;
for though he is my Saviour,
in this life I'll still slip,
but what he's started he'll complete
and holds me in safe grip.
Only Jesus, he alone
can  help and save us all,
only Jesus Christ alone:
for love and mercy call.
Tune: 76 76 irr, – 'All things bright and beautiful' by William Monnk (the first four lines of the tune are repeated at the end.