Afternoon Delight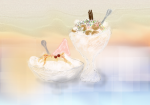 Thu, 02 May 2019
Tuesdays after school: because that was when Bethany had just gotten paid.  We'd run out the school gate and down the road, bags flying, with Bethany's red hair fluttering in the wind.  The Crazy Cow was just a few blocks down the road from the school: an ice cream parlour that served the best of everything.  I always ordered the Caramel Doughnut Sunday, and Bethany always ordered the Tropical Bonanza – like a banana split on steroids, all swimming in tropical sauce and with big lumps of actual coconut.  It was a little bit gourmet, with little-bit-gourmet prices – and I guess it took a bit of Bethany's pay; but this was our thing, wasn't it?  This was us.
People said sometimes that we could have been twins.  Even though Bethany was older by nearly two years.  Maybe that's what made me cut my hair short – this need for my own identity, and yet they still said it, even while Bethany's hair flowed down over her shoulders and mine sat all pixie-neat, clinging to my head.
"Such pretty girls," Mum used to say to us, when we were little, holding each of our hands.  In the old days, when she could still say things.
I visit Mum sometimes, twenty years later, and still she just stares with those glassy eyes, and I wonder what's in there, what secrets she keeps – does she look out at us from her helpless sack of a body, laughing inside or pleading or screaming?
I talk to her about Bethany, but I don't really know what to say.  It's been so many years since those gorgeous ice creams, those gorgeous red-headed adolescent girls.  So many years since Bethany changed, or since I changed, or since all the uglinesses of the world caught up with us.
First Mum.  "But it's not your fault," I tell her, searching for some kind of response or recognition in her eyes, "you can't be blamed for what happened to you."  And then her job – Mr handsy-handsy manager; but he was the one they believed, and Bethany was the one who had to leave.  And then that shit, Rogan Dilly, who took her out riding on the back of his bike every night, who taught her stuff she was too young for, and who shared a hip flask of whiskey with her and rolled a big fat joint for them to smoke together.
"She hasn't really talked to me in a while.  I mean she's doing all right, she's got a job at an advertising firm, and she's successful.  And she came out of the divorce without losing too much."  Except another husband.  The second one to go.  And that's the thing with Bethany, the rough-stuff of life turned her cold, hard. It turned her away from Tuesday afternoon ice-creams, towards bourbon, towards a hard-pressed expression, a down-turned mouth, getting things done whilst shutting people out.
"But she still loves you," I tell Mum, actually believing it, even if she's lost some of her capacity to let such things show, "she still loves you.  And she'll come to visit when she can."  Come to see us both.
It's always a funny feeling, walking out of that nursing home after my visits with Mum.  I feel a little bit free; a little bit guilty for feeling so free.  I'm acutely aware of the trees and flowers and footpaths, of the wonders of life that Mum has been brutally cut off from, and which I think, far away, Bethany denies herself.
I go home to an empty house, but a quiet and warm and embracing one, full of my stuff and my photos. With a message on my phone from one of the bowling girls.  I sit down in the window seat, taking in the last of the sun.  I have a big glass bowl in my lap, filled with ice-cream and hot chocolate muffins, boysenberry sauce and sprinkles. I eat it slowly, and think about my sister.
Picture credit/discredit: author's own work