The Beauty of Our Women (Part 2 of 2)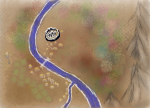 Thu, 20 Sep 2018
The lords and ladies arrive. There are two days before Firenight, before the feasting and dancing and music. And they just seem to stream in, along with their retinue. Marl sits amongst the men, watching as clots of them ride over the ridge and down towards the castle. He does what the others do, eyeing up the ladies, imagining what chance could ever put him alongside one of them. A few ribald gestures made quietly. Having little idea their lord's sisters yesterday have huddled at a window making the same observations of them.
In the castle it is festive. The halls are all lined with coloured banners, there are dried flowers hanging from the ceilings. Neskin's mother is a blaze of peacock feathers and red glass. She winks in the light as she glides along the hall, to take one lord's hand after another, to welcome them, to offer her home as theirs. She organises the servants to fetch and carry, to pour drinks and bring out hot breads. While his father sits at the main table and speaks business with them.
Business these days is cased in steel, surrounded in sharp edges – or so rumours say.
"Civil war," is what some are saying.
"… with the king, of course," his father says, when asked on his opinion, the direction of his loyalties. As if a man might say anything else.
"….and you believe this talk of war…?"
"… I hear it is more than talk by now…"
The girls watch from a stairwell, hidden amongst the shadows, in a spot designed precisely so a person might stand and look out across the hall without the hall seeing back.
A Lord Dormorast is bolder than most. He makes his bow to Neskin's mother with a flourish, he kisses her hand and promises her a dance on the night. He insists she must hear his life story, and insists she'll be rivetted, inspired. He says recklessly: "I hear you have the most beautiful daughters."
She smiles: "Precious petals. Innocent girls."
"All the same. I would give much for one dance. For one glance come to that. Madam, might you recommend me thus?"
Neskin feels an itching on the back of his neck to intervene, but his mother is practiced, she's already guiding Dormorast away from the topic, enthralling him with some other thing, some witticism or trick. While Neskin measures Dormorast and finds him lacking, a far from worthy match for any of his sisters.
"Handsome," Shutha admits.
"A snake though," Lyditha bends closer, weighing him up.
"Maybe."
"Don't tell me…"
Her sister laughs. "Not that one." And she screws her face up to imitate him, working her mouth and widening her eyes to make her impression.
 Tamlial stifles a giggle against her palm.
"It's all right, they can't see us."
"They can hear," Lyditha reminds her.
"Not from here, and anyway, we speak in our own home, don't we?"
"That depends on how you look at it."
Somewhere, on some distant plain, up to his knees in sharp grass, there is Othogrith. Maybe handsome. Maybe a snake. Right now, just a swirl of possibilities. Lyditha wants to look forward to him, to relish the challenge of seducing him and managing his household, raising his children if she's strong enough to bear them. She wants to. But in her mind, he is both cage and sword. She imagines she will batter herself bloody on his sharp edges, and once that is done, she, bleeding, will have nowhere to run, nor the strength, nor the will, to run anywhere.
There are rafts being dragged down to the river. Ablaze with dyed wool and dried flowers. Marl's already watched the local women mix herbs and powders together and pour them on top. When the night comes, when midnight creeps over them, the water will bloom.
He has prepared a picnic to share with Ekitha, having bought fresh roasted meats and honey cake and wine and dried, whole apples and lemons. And a blanket to lay it all out on. The blanket was costly, but it'll keep him warm later when they head out again, further into the hills.
She has promised to look for him, and he for her.
The rest will come down to the moonlight, and a clear sky, to his ability to say the right words, and maybe a little to the wine.
In the castle, music plays.
Neskin has found some brief respite in conversation with a young governess. She informs him she was hired to teach a girl of five, and that she must follow her charge wherever her family will take her. Up into the mountains, into the least travelled part of the forest, through festering swamps. And this: a child of five. A plump, confused, curly-haired noble girl. An heir though – and so her governance is everything.
"Poor thing," the governess murmurs.
"Maybe her mother will still bear a son."
"A brother. Yes. That would lift the curse on her."
Lyditha tries not to fiddle with her hair. She remembers all the instructions she's ever had in these matters: which have been many, over many years. She takes a deep breath, one sister on each side, before descending the staircase into the main hall. There is talking and feasting, music playing, savoury smells, plenty of laughter. But some of it stills as the three of them make an entrance.
She feels like a cow at the sale yards. Isn't everybody calculating her worth?
Or a gold bauble, finely crafted and pretty, valuable enticing. Property.
And at the same time, it feels heady. To march out there, all shimmering in pale violet, sheer lace floating over a slightly darker shade of silk. To have all those eyes on her and to hear some of them gasp in appreciation. She's a thing, and yet a valuable thing. She knows what it is to be admired, longed for, appreciated – in a way.
Shutha, beside her, is in dark blue. On her other side, Tamlial, still painfully young, is allowed to share this night with her elders. In pale yellow she holds Lyditha's hand, intimidated and excited by all this attention.
The Housemaster announces them.
Their father beckons them forward.
And then it is the game of introductions. The game of smiles and curtseys and partnering for the dances that begin soon after.
A sea of faces. She tries not to see. She's likely spoken for anyway. Each one is an escape she can't have, and anyway, an escape into another cage. She allows the tips of her fingers to reach out to the men who dance into line before her, but never allows them to quite touch.
Marl finds her by the river. She's standing against the light of silver-tinted bonfire. Her back to him. Her hair coming down between her shoulder blades like a waterfall. He spreads the blanket with a flourish before looking at her, before speaking.
"For me, then?"
"If you will."
She gestures out at the river, choked with burning rafts. "They're nearly ready to set them free."
"I love that part."
"Well, I hope your life story is quick then."
"I'll cover the highlights."
She sits down beside him and after a while reaches for his hand. Tradition suggests the saying of so much, but he doesn't want to spoil this charged silence between them. It's so fraught with possibilities. So alive. But eventually he finds himself feeding her snippets, she feeding him in return. He learns that she has been married, widowed, that she as lost a baby, and that she carries that loss in her heart. She promises him that no woman who has lost so ever doesn't. He tells her he has never married, and fears to: fears the emptiness he'll leave her to, maybe the poverty, and the fatherless child, because his way of life doesn't lead to old age, he was brought up not wanting it to. He says: "Your men are ugly."
Ekitha laughs out loud.
"I mean… not all of them. But some. I'm glad of it, to see less competition. They're not beautiful like you women."
"It's like magic," she answers, "always stronger in the female line."
"Are you? Magic?"
"No. Not a spark of that gift. These perfect faces are what the universe gave us instead."
"I'm glad of it."
He sees her disappointment. Scolds himself inwardly.
She says: "Don't worry, I'm long out of infancy. I know why you're drawn here, why you're eager to try a woman. It's nothing to do with what's in our minds, or even our hearts. Men are what they are."
He leans over and kisses her – in his eyes, making amends; but what in her eyes?
She at least responds. And there is something charged and wildness in there. A connection, if only physical, still real.
When the rafts have gone, she pulls him to his feet. "This way," to her house, "pick some flowers before you go."
The rafts are set free. The flow down the rivers like a massive field of flowers. All bright, all sparking and smoking. The view from the battlements is inspiring. Neskin feels a swell of pride: his home, his people. This may be happening all along the Ushelay, but how many towns do it as well, as brilliantly, as his. How many mothers have planned and executed such a night of entertainment and glamour? Men and women happy and convivial, while the music picks up pace, becomes livelier as the night deepens.
He notices that Dormorast is a little worse for drink. And he's noticed that his interest in the daughters of the house has grown with each cup. Neskin keeps the corner of his eye on him, in caution.
All the same, Dormorast seizes his moment. He sees that Shutha is alone and he goes up to her. Neskin can't hear the words that flow between them, but he can fill in the gaps. Dormorast flirting, trying to impress; Shutha, nervous, trying to deflect him gently. But this man, this night, doesn't want to be deflected. Maybe he doesn't fully understand, or maybe in his eagerness, and with the wine at his back, he doesn't think. And it's only a moment of unthinking, but that moment is enough. He reaches and grabs Shutha by the hands, only meaning to guide her onto the dance floor.
Instead she's screaming. It happens suddenly. And yet there's such a long time in Neskin's head for him to realise what will happen, for him to see it unfold before it does, to know that he can't run or shout in time to stop it. As Dormorast takes his sister's hands they light up, they glow, and cracks appear along her skin, deepening, brightening. Her skin must be burning hot, because he lets go in shock, but not in time: already her fingers are blackening and crumbling, already they're ash at the first knuckle, falling away, as the heat turns flesh and bone into powder.
"No….! No, no…. Stop!" His mother is too late.
"Unhand her!" The Housemaster is too late.
"Fool!" His father with a sword is too late.
Dormorast is aghast, stumbling back, trembling hands in his mouth.
Shutha's on the floor, on her knees, swamped in blankets of skirt, and curled over her ruined hands, which are little more than stumps, black, twisted clubs at the ends of her wrists. Careless of their own fragility, Lyditha and Tamlial rush over. Half the crowd rushes over. Neskin is with them, but he knows there's nothing anybody can do.
Lyditha fixes her wild, wet eyes on him. Men are… rough. That was what she'd said. Rough like this. Worse. She bores into him with that glare, with her accusation, and he can think of no shield to raise against it.
"You bruise easily." That's all Marl can think of to say.
It's more than bruising, in a half dozen places her skin is grazed and bleeding. Her bottom lip is bleeding, and her teeth. It's his doing. And he didn't mean to.
He tries to explain: "I didn't know. Not exactly. Not so much."
"The universe exacts its price."
"It's not worth it."
Ekitha shrugs. "Who knows what's worth it."
"I'm sorry."
"You don't have to be."
"But it's always like this?"
"Yes."
"And still…?"
"And still. Being touched, being wanted… Bruises heal, don't they?"
Something inside his mouth tastes metallic and sour. "I didn't know." That's all of what he can think to say.
Lyditha sits on the end of her sister's bed. She feels useless. She feels vindicated. She feels angry. And terrified. No matter how she wants to stop doing it she can't keep from staring at the charred lumps that were once Shutha's hands. Her father has talked about a surgeon, about sculpting them with blades back into something resembling their old shape, he talks about gloves. He talks nothing about the helplessness inflicted on his daughter, he thinks nothing of the pain such a procedure would bring, or the risk.
And their mother holds Shutha, rocks her, tries to soothe her.
Shutha cries into her shoulder, inconsolable.
What did any of you think would happen to her sooner or later?
She pictures the rabbit as it would truly be, breaking its legs as it first leaps into the air, falling hard on the ground, shattering its shoulder and tearing its face.
Tamlial sits on the floor beside the bed, silent and confused.
"How will I eat?" Shutha wails, "How can I pick up knife, how can I lift a cup?"
"We'll help you," Lyditha promises.
"And write, or lift a needle?"
"There'll be ways, I promise. You'll learn."
"To dress…?"
But there are servants. There are bodies to take the place of what's ruined on her own.
What does she feel? Broken? Elderly? Frail?
"We'll be with you." Lyditha promises.
"Until you're not."
"I know," she buries her forehead in her sister's shoulder. Three of them huddled like that, Tamlial: punctuation, a full stop at the end of their little formation. Lyditha feels weirdly sorry for Dormorast, who, after all, had never meant this to happen, who'd never meant to hurt anyone, who'd been driven out already at sword's point and in disgrace.
"My poor girl," their mother whispers, "all my poor girls."
In the window, across a furred, scented floor, the first hint of sunrise ripens between the shutters.
Picture credit/discredit: author's own work.
Shameless marketing ploy: to read more about this world, try my new self-published e-book: The Price of Blood; Book One of the Golwerra Stories.