Best Judgement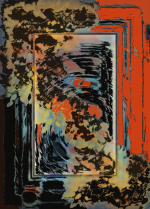 Mon, 24 Aug 2020
"… and you can be the judge!"
"Um."
"What? Come on, it's perfect."
"I don't know anything about art…"
"But you know what you like."
"Yeah, but-"
"I'll put your name down."
There was no point arguing with Mandy, this he'd learned from many years. Once she had something in her head, she kept it there, she twirled it around like candy floss, she built it up. And let's face it, he had no capacity to turn her down for anything.
She slid her arm around his waist as if the act was nothing, as if it didn't cover him with goosebumps, or fill his legs with jelly. She pressed her face against his arm. "I knew I could count on you."
Just so long as you never figure out why.
His friends mocked him. All in good nature. All in fun. "We're just joshing around with you Martin." But they pointed it out at every opportunity: "Ah, dude! You're trapped in the Friend Zone. You're never getting out."
Joke's on you guys. I'd rather be in the friend zone than not be there at all. The friend zone is still close to her. It's still seeing and hearing and smelling her.
"Just ask her out, dude."
He'd shake his head, "No, that'd make things awkward."
"Or it'd make them hot. You know you want to shag her so bad."
"I don't want to risk the friendship."
"Oh buddy. You are soooooo sad. Hang your head in shame, dude."
But… no… just to have the friendship, and to have the closeness.  And… in a cold little place below his heart he wondered: could a romance live up to this? The wanting. What if the consummation can't compete? And the longer he dithered the more entrenched his position, the deeper and more established the infatuation, the harder it would be to equal.
Mandy was talking. The melody of her voice was uplifting and soothing. She said, "It's a self-portrait then, but don't let it bother you. Don't worry if you can tell who it's of. There's no pressure. And you're not Paris, so don't go taking any bribes. Even if they do all want to get into your pants."
#
"It's true," his oldest, least reliable friend Duncan told him. "There are so many girls you could have if you wanted to."
"Uh-huh."
"No, I'm serious. You could have Daria Phelps just be clicking your fingers. And you've seen the way Heather looks at you. And last week, down at the Yoda Lounge, you could have had Miriam Grant for the asking."
"Miriam…?"
"Grant."
"Who?"
"Oh, dude! Every guy with a dick… and you… Oh man! There is no justice in this world."
"Sorry."
"And all for her. I mean don't get me wrong. I love Mandy. I'd do Mandy if the opportunity arose… But I don't get how bad you've got this. She's nice. She's sweet. She's sorta pretty. But I don't get it…"
#
What was to get? There was something about her, something so perfect, or more exactly: there was something that felt like such a perfect fit. There were times when Martin had tried, when he'd told himself he should move on, live his life, all that hype. He'd dated a few girls, and sure, he'd had fun, and he'd taken them home, and it'd all been well and good. He'd learnt a few tricks, and he'd had a few laughs…
… and then he'd gone over to see Mandy, and he'd talked about the date, and laughed with her about it all, and let her in on every secret and every secret feeling except that one…
… And then he'd told these girls that he didn't think it was going to work out, and he was sorry and all that, and he hoped they understood.
Trudy, who was sort of a part of their social circle had nodded and shaken her head. "Oh, poor Martin. I understand. We all understand."
#
And so, he was going to be judging some art. No big deal. Fine. He could handle it. And it was for charity.
"A fundraiser…?" his mother said.
"Yup."
"Art though?"
"What? I'm not that uncultured."
"Okay. Of course. It sounds like fun. Maybe you'll meet a nice girl there."
Talking over the phone meant that he could safely roll his eyes.
"Just saying, love, you're going to have to make me a grandmother sometime. I gave you life. Now it's time to pay it forward."
#
Mandy stood on his doorstep with pizza.
"Come in. Please."
"You haven't eaten yet, have you?"
"No."
"Cool. I've bee making all these arrangements." She bounced on in and opened the pizza boxes and went straight for his fridge for the beer. She curled herself on the ragged chair with the green cushions and took a couple of pizza slices in her hand. "Well, dig in then."
"Sure. Thanks."
"So anyway," and the melody played through his head, never ceasing to be beautiful, never ceasing to be anything except profound and lifechanging. She had the décor all planned, and the background music, and she was helping Larry Spencer with his auctioneering routine, once the winners had been announced and the portraits were auctioned off. She was keeping Sylvia calm about her painting abilities; and trying to keep Daria motivated to even get her portrait finished on time.
"Well, what about you?" Martin said, "are you going to enter?"
"Sure."
"How's it going?"
"All right."
"Sneak peek?"
"You're the judge! No, no, no, that's like cheating, that's pure dodginess. You have to wait until the day. You'll know it's me. I hope. But no pressure. You have to decide on merit. There's nobody going to promise you wealth or empires or anything."
He couldn't help himself: "Or the most beautiful girl in the world?"
"Well, I guess Miriam thinks that's her. And she probably would offer herself up…"
"But I'm above corruption."
"Exactly. That's why I chose you."
"Yeah. That worked out with Paris."
"Paris? Nah, you're way more upstanding than he ever was."
Paris at least had his time with Helen. Even if it was ill-fated. But then what? She went back to Menelaus. If there'd been any friendship between them it would have been long gone by then. Did Paris die at the end of all that? Martin couldn't remember. He didn't think so. But he really couldn't remember.
#
He had the hall to himself for this short time. And the portraits sat there, staring out at him. Many of them were exquisite; others were blocky or jumbled, or poorly proportioned. He walked past and around them taking them in from different angles.
He recognised the red hair of Daria Phelps, and recognised the painted blue eyes as an affectation. He noticed the way her portrait leered out of the frame, the way her smile was crooked and wayward. "I could promise you the time of your life, if you wanted it.  I could make you forget all about that one. I could give you a night to remember."
And Miriam – he remembered her now – and he admired the sweep of her blond curls. Her portrait whispered to him, "Well, we could go anywhere. Where in the world would you like? We could take a plane, just you and me. You could have me on your arm anywhere in the world."
He recognised Sylvia's thin face, the tilt of her eyes. A chin painted too sharp and overpowering, a background of russet and teal. She didn't smile, but her eyes winked at him. "Best. Blow. Job. Ever. Just saying."
Heather Moore shone like a dark sun from a frame of her own. "I could take you home with me. Meet the family. We could have that white picket fence you know you want deep down. I'd plant sunflowers next to it, and you could sit on a porch-swing, you could chew a little piece of straw if you really wanted. I'd do that for you."
A face he only thought he recognised: "… while my husband's away… while he's not looking."
Did all the women in the neighbourhood really have the hots for him? He honestly found the idea perplexing. Why would they? But he did see some of those looks, he did avoid some of those stares. Why? Why am I waiting for nothing to happen?
But the portrait in the corner, a mix of water-colour and ink, simple, and yet stunning, soft blond curls framing a round face, with cornflower, blue-water eyes. A small, pink, accommodating smile. The only one who said nothing at all.
#
Martin picked a portrait. A young man, whose visage had only sort of nodded at him with a kind of wry understanding. His name was Justin Gray, and he was stranger. He was stoked with the prize, and made a show of parading it around – a large chocolate bar, since charity money shouldn't be wasted on fancy prizes – and he flexed a few muscles for the laughter of the crowd.
"Well thanks, dude. I wasn't really thinking I'd stand a chance with all those pictures of such hot chicks."
Ah well… He knew what he'd wanted to choose. But he also imagined the groans and knowing looks, the way they'd all roll their eyes at this puppy-dog inevitability. And it would have been a bit less than above-board, really. Picking Helen out of all the Trojan women without even really considering the others.
No. This was fair.
But he lingered for the auction. He told himself he shouldn't. But then the picture was up there on the stand. And the way she smiled, the way she said nothing; but the soft paint-strokes, and the cool, dark lines: they had something to say.
There were a few cursory bids early on; but he was set in his designs now. He bid steadily, and watched the others drop off. He was causing a light stir. It didn't matter. He walked up to get the picture. It was going to look beautiful in his lounge, catching the morning sunlight and softening with the sunset later on. He signed the book and lifted up the canvas. He felt very sure of himself. And he turned around to meet a smiling face, a halo of curls, that matching smile on her face and in her blue eyes, as she came to meet him and tease him about his purchase.
Picture credit/discredit: author's own work