Daffodils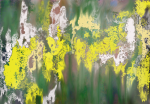 Sun, 13 Nov 2022
There I am again, running through the field picking daffodils.
I never change.
Well, no, this part of me changes. This part of me has those sixty-odd years' worth of change stored up in her bones. She's patterned with the ages, with the years and the mistakes, and the few times she got something right.
Bitter, dripping years. That's what this part of me has. The messes and the fallout. She has shadows that follow her all over the world. Shadows she can't escape.
And the worst thing about this part of me, is that she becomes a shadow, she can't help herself. The date is always 15 September, and it seems like the sun always shines, at least for some part of the day. And this ragged old me, she tosses a scarf around her neck – spring's still early and she isn't as young as she once was – she packs a water bottle, a couple of muesli bars. She laces up her boots, and she heads up the hill.
She remembers.
So many years have gone, but she remembers that other me. The one without all the baggage, the one who's eight years old and bursting with excitement. The daffodils are out; and it's just a half-hour walk up to Jim Broskett's back field, where the ground, the sky, the universe is nothing but gold, orange and white, where the flowers stretch into infinity, and you can pick as many as you can carry for a dollar. She races up there - never mind the holes in her shoes, the dew on her corduroy skirt – a dollar folded up in her palm. She hands that crumpled little ball over, grinning as old Jim unfolds it, laughs, taps her nose, tells her to pick all she wants.
This old me, she follows the same track. There's no old Jim there now, no crowds of locals. The field is as overrun with gorse as it is with daffodils. The fence needs mending. The gate is padlocked shut. A few sheep graze lower down, minding their lambs. They don't care about the shadow who falls on the upper field. They don't care where she walks, or why she stoops to gather flowers as she goes.
The other one is always there. The little one; running from clump to clump, plucking daffodils, adding them to that blazing pile in her arm. Her face is aglow, her hair is all coming out of a set of braids. She sees the shadow in the same moment the shadow sees her. I remember, you see, the moment when she saw me, the puzzled recognition. Who is that strange old woman who looks at me like she knows me? Why does she look like she's trying not to cry?
Why? Because she knows so much you don't know yet. And she knows what you're going to lose, in good time. She envies you that innocence. But she smiles deep inside, because she remembers how free and full you used to feel. And when she stands – between this and then, once and now – she can still feel a bit of that feeling rub off. You sprinkle it on her like glitter, before you run off down the hill to add to your bouquet.
Picture credit/discredit: author's own work