Darling Debbie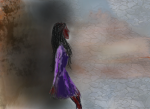 Sat, 14 Sep 2019
Under darkness.
The sunset hangs in her memory, red and dusky; but the lights take over, black and purple mixed with orange and white. The strobes and blacklights of the dance floor. She can get lost. She can sink into the music, absorb it through her skin, live it. She can wave her arms, twirl, rock her body like convulsions, throw her long black hair around. Maybe she'll drape herself over a stranger, maybe she'll run her fingers over his chest.
What she sees in his eyes determines if she'll take that further.
Out in the alleyway she smokes a cigarette. She wishes it were pot, but she won't have the cash until Tuesday. And then… Ah, and then… A cornucopia of pills and crystals and herbs that make the world lurch and blur, make her float, forget.
She leans against the brick wall and feels the music move through it. She watches the sea of bodies as they pass by, all laughing and chatting and teasing. All colours. All shapes. She taps her feet against the asphalt. One day, she thinks, it'll get easier. There's a map out there, somewhere, a guide to living. And she'll stumble upon it, and then she'll know what she wants and how to get there.
#
Last week she confronted her father.
She hadn't been sure she'd be able to do it. And then, standing in front of him, all her instincts had been to run; pulsing through her skin, beating in her heart. Flee-flee-flee-flee: that's what her mind and body were in absolute agreement on.
But somehow she held her ground. In his eyes she could see her own scars – mental, physical – the ones he'd inflicted, and the ones he'd inspired her to inflict upon herself.
"I want to be your father," he said.
"What about then… what about all the times you hurt me?" She revealed her left shoulder so he could see the burn marks, still knotty and sheeny all these years later.
"Damnit, what do you want from me?" He snapped.
"To feel safe. For you to be sorry."
"I was your father. I had to raise you. Who else was going to? I had to raise you, didn't I?"
"Not like that."
"You were a wretched child. You don't know how what a little shit you could be."
#
And so. That genie escaped from its lamp. Too late to stopper it. All the old feelings surging back up, flooding and drowning her. Is it her after all? Bringing it all on herself? If your own blood can only see your darkness…
But the dance floor helps. And the whiskey helps.
She stamps out the cigarette and follows a current of music as if it were breadcrumbs.
Picture credit/discredit: author's own work