Just Past Three in the Morning (23)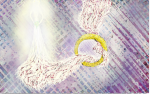 Sat, 21 May 2016
Penny was beautiful.
No, even that doesn't do her justice. She was a work of crystallised sugar and sewn-together starlight. And seeing her, walking along that path, I understood how lucky I was to have her in my life, how much I loved her, and how much I depended on her friendship. Hers. Savannah's beside me. The guys, sitting over to the right.
She was wearing a dress of patchworked laces – from fine net lace to chunky brocade. Sequins and glass beads winking in the sun. Her veil was framed with giant daisies – the same kind she held in her hands. Her brother at her side, arm in arm, smiling. Her mother, out the front, in a long, rose-pink dress, her hair ringletted for the occasion. She clasped her bag against her chest, her eyes wet and her face broken by a massive smile. She looked as if she didn't know – or as if she'd forgotten – how beautiful Penny can be.
Norton waited. In a swish suit, a reddish shirt under it, looking transformed. And he looked nervous. Well this was his big day too, wasn't it? Everyone watching him.
But Randall first.
"Do you have the ring?"
Soft exhalations of held breath when he successfully produced it.
Penny: "I take you to be my husband. To love you like I've never loved anyone else. To be there for you through thick and thin, through no-matter-what. I'm always going to trust you. Give me this chance to prove to you that I can be the wife you deserve."
Norton: "I take you to be my wife. I promise to love you, properly, unselfishly, to make everything about you. And I promise to be loyal to you, and kind to you, to hear you in everything you say. I promise I'll always have faith in you. Give me this chance to prove I can be the husband you deserve."
Exchanged rings.
A long kiss.
And then its as if floodgates were suddenly released, all of us coming gushing in from around the edges, descending on the couple like a flock of flesh-eating birds. Dogs, let loose from our cages. Butterflies. Us girls all queuing up to hug Penny, to state the obvious: how beautiful she looked, to wish her all the traditional happinesses. All I could think was how this was some kind of miracle: our Penny, finding someone who can give her this – this joy in him, this security, this certainty that the two of them were a set. What were the chances they would have found each other? What were the odds of how they met? A million to one? Another round of drinks, dancing to one more song, taking a different route, deciding that Cage One really would be closed that late. So many things that could have tweaked things – just that enough so that none of this would be happening. Pigsy, joking over there with Randall – faces I would never have known, would have passed them unknowing on the street. All of what might never have been.
But no: there was this: here and now. Penny having suddenly become a wife, of all things. Penny with her hand in Norton's, smiling over it all with cool certainty, knowing she'd done good today, and that she'd never have regrets.
#
We ate. We danced. Until late into the night. Fake candle-light distorting the hall.
Davey came to sweep me off my feet for a while. Then Norton.
"You be good to her," I warned him.
"As if I could be anything else."
"Hm." But I smiled at him.
"She's her." He said by way of explanation. "That's different. Don't you see?"
You really do got it bad don't you? As he should. As I was glad for. I kissed him on the cheek: "Heather, you know? Not a bad name for a guy's first born."
"Heather, like the countryside, like thatched roofs and fields."
"You weren't even there for that."
"Guys talk too."
I shrugged my shoulders. "Who knew?"
#
The sky was glaring red, it had light clouds floating across it, stretched cotton wool, bruised and purpled, but those colours drowned out by a fierce sunset. That magical toffee light overlaying everything. And me, with feet bare, my toes playing in long grass, a glass of red wine in one hand. I sat marvelling at the directions life can take a person in.
Pigsy came down there to join me. The music, dancing, laughing was an echo in the hall behind us.
"You all right?" He asked.
"Yeah, just taking a moment."
He sat down beside me. "I approve of moments."
"Thanks," I said, "that railing's still holding. The fence looks great."
"Just doing my uncle's duty." He held up his hands. "But seriously, it's the least I can do, he's always been awesome."
"And you're good with your hands."
"A little bit louder, there's some hot girls back there."
"And you're sitting out here with me?"
"The hottest."
I shoved him, "Oh, don't!"
We sat in some silence. It was companionable rather than awkward. The evening stretched away before us and it seemed perfect, inviting. I knew I risked changing the colour of it, darkening the mood, but I felt like I had to say this, like Pigsy was the one I wanted to tell this to: "I saw Dad on Wednesday."
He turned to me. "Wow."
"Yeah. Wow. I'm not sure if it's too soon, or if it's weird that I waited this long."
"Is it that long?"
"I don't know, that's the thing. How long should you take for this sort of thing?"
"How was it?" he asked me.
I thought back to that evening: Dad, looking wild somehow: unshaven and much thinner. More years etched onto his face than time alone should account for. A scar above his forehead. Yes, he'd been in a fight, that sort of thing happens in prison. Hard? Yes, it was hard in there, didn't fit in, men around him who were hard, iron-souled criminals, who would cut your throat for a sideways glance.
"Murderers." I'd dared that response, and part of me had regretted it, seeing the sudden devastation that flooded his eyes.
"I'm sorry, Heather. I'm very sorry."
"Tell me why, Dad."
"I ruined your life."
"Not ruined. Broke, changed, caused us all misery, took all kinds of shit away from us like you don't even know what most of it is. But that's not the point. What about Mum?"
"I'm sorry," he'd mumbled.
"If you want me to come back, answer me this: why did you do it?"
A silence, long enough that I thought he wouldn't answer. Not wouldn't, couldn't. "I don't know," he said, "I'm sorry. I know you want more. But I really don't know. Three seconds before I did that, I had no intention of doing it – not even a thought – and then I was so angry, so angry I didn't think, I saw the image in my head of me doing it, and then I had."
"Over a fight? About discarded chocolate wrappers?"
"About our whole life. She regretted me. She wished she'd never met me."
"That's just talk. It's just what you say when you're pissed off at someone."
"I know. I know that now. And she was right, anyway. I was something to regret."
Especially now. "You took her whole life Dad. That's worse than what you took from us. It's her forgiveness you should be begging for."
His face went through so many changes. He said "I know," but then he said, "It doesn't feel that way. I think about you and Shelley, I think of you motherless and fatherless. That's where all my regrets are." He swallowed: "But then some nights I'm lying in a prison bed and I can't get to sleep, and I want to reach over for her, and hold her, but she isn't there. I've started crying over that, started bawling into my pillow. You tell me what that means? Is that remorse? I don't bloody know."
"She can't forgive you, Dad. But I'll try to. Just, I don't think I can do it soon."
And to Pigsy, looking at me intently, I said: "It went okay."
"But it was hard?"
"Hard, but it made me feel better once it was over."
"Has Shelley...?"
"Not yet."
"Do you think she will?"
"One day. I don't think we should push her."
"No. She's got to be ready."
I put my glass down, wrapped my arms over my knees, watched the sky as it darkened, as blue-purple shades came to the fore.
Pigsy reached suddenly for my hand. "Come on! Back into the fray! It's high time you and me danced."
#
Throwing petals and confetti – a few bits of cake and some leftover glitter – we saw Penny and Norton off to their car. The boys were all shouting vulgar comments about what they'd be doing that night, some of them glaringly explicit. Norton called back to them all: "You don't know the half of it!"
And Penny, loud enough for everyone to hear: "Neither do you, sweetheart."
They faded into the night, and their tail-lights faded soon after.
Randall, a few minutes later: "This town needs painting red!"
So we bumbled out of the hall, along the road, heading for town. There'd been a game on or something, because the atmosphere was bright and festive, the streets were full and cheerful – not just us who were awash with excitement. Downtown was buoyant. Roger and Randall were bouncing off each other's chests, roaring with each time, shouting ridiculous things at each other, some of them so crude we had to apologise to passers-by. Davey struck up a few sentences of conversation with passing girls, looking sophisticated in his suit, giving them a bow as they clattered away.
We danced along, in amongst the lights. Briefly there, a game started that didn't have any real rules but involved renaming the bars and nightspots we passed. "Let's try the Pickled Ram's Balls!" - otherwise known as Shell Chateau. "I want to go to the Red Dog's Bum!" "Let's check things out in the Long Yellow Dick!" Apologies, once again, to an older couple passing us.
A song started up amongst us, or two songs really, because we couldn't decide what we were meant to be singing: Was it The Gambler or Rock DJ? We decided in the end to go into Othello's – not really called Dirty Old Fellas – and we piled in the door, waving ids, flirting with bouncers, checking out the dance floor for what, let's face it, can best be described as targets.
I glanced back at the town hall clock as we went inside: it was just after 3am.
END