Midlife Molly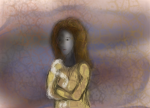 Sun, 15 Sep 2019
The sun fades away to near nothing. She thinks she should get up out of her chair, turn on a few lights. And then she thinks: why? What are the lights going to show her? The same old wallpaper, the same peeling paint, and the pitted lino. The stacked dishes, the old shelves, the glare of streetlight against window glass? She's seen all that before.
The lights from passing cars cascade across the wallpaper, and between the pattern and the dabbling of outside leaves, there's a show that plays out against the walls, that begins in one corner, at the top, and slides down in a smooth arc across the far wall and into the corner behind the fridge where she thinks the mice get in.
This is what passes for entertainment these days.
It wasn't always so.
She remembers when there were two of them. Chalk and cheese. Darkness and light. And she, unable to choose between them. A wedding ring on each finger: hers, and his, and his. A fourth wedding ring out there in the ether somewhere. Sometimes the rings matched, sometimes their origins were different, incongruous, inappropriate.
She thought she could have her cake and eat it. She did. She ate, she baked, she stared, she bedded, she danced; and then she fought and screamed, she tried to keep the two of them off each other, she cringed under the stares of her neighbours. And she huddled as the loudness turned to quiet, and all the wedding rings became obsolete, lost their magic powers, slid off all four fingers, for all intents and purposes were no more.
She married Ed in '84. And she loved Ed, she was fired up by his energies, and intrigued, a little perturbed by the dark currents she'd glimpse at times under the surface. And then in '95 she encountered Robert's sweetness, all the light that wobbled and fluttered beneath his skin and only wanted the best, gentlest, most celestial things for her. Even as he mourned his own selfishness: even remembering that fourth wedding ring, while she, Molly, seemed so capable of putting Ed and his ring aside.
Had her name been Laura? Molly knew it once.
She knows now how many flowers that old wallpaper holds, the number of squares on the lino. She knows that she should get up out of this funk, forgive herself, remind herself how to live again. All this hell she brought down on all four, but she did it, she's done it, and now would be the time to pick herself up and begin again, file away the papers, the memories, the dirty looks on the streets and just reinvent herself, become all over again.
That's what she should do. She knows.
She knows.
And doesn't move.
Picture credit/discredit: author's own work