"Petra"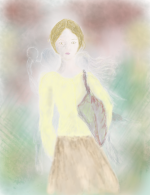 Thu, 29 Dec 2016
You don't really think much of her. You wouldn't really notice her in a crowd.
She walks along the road in no particular hurry, unexceptional in a knee-length skirt, in a plain cardigan, with her hair tied demurely back, little in the way of makeup. She seems to blend easily into the scenery, to be part of the world, woven into it, to belong in a simple and unremarkable way. You might imagine – if you imagined at all – that she's easy to please, that she asks for little and probably gives not much more back. She must be mild-mannered, mild-tempered, willing to adapt and concede. You could imagine her nestled in an armchair reading a book. On special occasions there might be a box of chocolates on the table beside her.
#
But you should see her when she gets home. When the door opens and there is suddenly life everywhere. When she's assaulted by demands from four simultaneous voices. When she have to divvy her hugs, her words, has to pick her way through the tangle of limbs, to the woman on the sofa. "Yes, thank you, for minding them. Thank you."
Two are her own. They share her mousy features, and the extensive freckles, the deepset eyes. One belongs to a sister who can't be here, who shouldn't be anyway. And one belongs to a friend. A friend who'll come back when she can. When she's straightened things out.
So she's suddenly mentor and referee, she's cook and enforcer and font of all love. She's conductor, turning this cacophony into symphony. This one wants to climb up on her knee, wants to be read a story. That one might draw on the walls if she doesn't take that crayon out of his hand and scold him.
"Yes, of course, I love you all."
Dinner is on the stove now. There's washing in the machine.
#
And you should see her when she spreads her wings. When those wings catch fire.
When she escapes these soft chains, and she's let loose on the world, and all she wants to do is party. Can you imagine her in a sequined red dress, her hair loose, strapply sandals? It's an image that's so far away from her daily persona. It's a cloak she rarely dons. But sometimes she does, sometimes she flies. You might see her out dancing, see her throwing her head back, singing along with the music; you might see her body undulating in time with it, hair flying, her eyes flashing. For a few hours: a whole other woman.
#
But you don't see that. You see the slightly bowed figure who walks along the road beside the park. You see a bag over her shoulders filled with produce from the greengrocer just down the road. You see her glance at her watch, you see her look thoughtfully into the horizon. You see the tidy way she walks as she passes the shops, stops a moment to look at a colourful display.
You figure she works in a library or something.