Private Darkness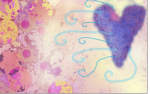 Sun, 10 Jan 2016
You made the decision to run away.
She: spreading like a weed,
Sliding into your private darkness,
She casts a white light, casts her eyes over everything;
Watch yourself as you morph
Into her mirror image.
The wind in your hair,
The sunlight plays in your eyes.
You gaze over this world that has no time for horizons.
You learn that the night sky is endless,
Up, down, sideways endless.
You see your mirror image rebecoming you.
You follow your instincts,
You run with them you might say;
But you're always running,
Aren't you?
She: always behind the next door,
A face looking out of the next window;
Behind every magazine held in painted hands on the train: her face?
Your instincts lead you astray.
Nuclear winter.
You notice how the grey settles over your world,
How the bright lights are smothered in ashes.
You have your private darkness again now,
But you don't want to go into it,
You don't want to see what's there inside for you.
You know full well that it has teeth.
Bereft.
You didn't know it at first; you mistook that for free.
Her face behind each magazine, you hope for that,
Not a predator now but a straw,
One you need to clutch at, however fine and brittle.
You hunger all day for that illusion.
Once a night you take her number out, you hold it in your hand.
You know its time to call it.
But you never do.