Santa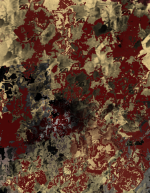 Fri, 28 Dec 2018
We left them out on the windowsill – me and Pippa – piles of breadcrumbs, and crusts, maybe a few vegetable peelings.  The sun would be setting, and Dad wouldn't be home yet.  And the birds would come down to feed – cautious, hoppity – they had their doubts about this too-good-to-be-true buffet.  But they ate from it, and drank from a little bowl we have wired to the side of the window frame.
When I was twelve, I put vodka in it, just to see what would happen.  I got the idea from a Christmas card of a bird-bath full of rum and a bunch of drunk robins teetering around it.
What happened?
Birds have a lot more sense than humans.
#
We left them out on the fireplace – a mug of beer, a bunch of little criss-cross pies.  We went to bed and we crossed our fingers.  Santa would always come.
I crouched in the stairwell once and watched Dad drinking Santa's beer, eating Santa's pies.  He had a woman with him – blond, baggy – and there was laughing and carrying on. I lay awake in the night, terrified: my father, he'd stolen Santa's supper. When Santa came down the chimney, he was going to find an empty mug and a few crumbs.  He was going to be pisssssed.  A limp stocking.  Our tree trashed.  All the presents already around it, gathered up in the Santa sack to be redistributed amongst children who know how to feed Santa properly.
It must have been close to dawn before I slept at all.  I walked down the stairs with lead in my tummy.  But you see, Santa: Santa is one of the good guys.  He doesn't do what he does for drink-driving and sugar – he forgave the empty plate, the empty cup, and he crammed the stockings full with presents.
A stand-up guy, Santa.
Just: a stand-up guy.
Picture credit/discredit: author's own work