Sundown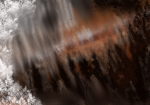 Fri, 03 May 2019
We only have this small time together, just this slice of day, these minutes where afternoon slides into dusk, where the sun spreads itself across the horizon, where the sky is red and purple and orange, and I can see the same shades glittering in your skin.
You find your way to me.  You don't let me see where you come from or where you go again.
"I'd go with you," I once said, testing the water, testing my own nerve.  "I'd go anywhere with you."
But you won't let me see you during the day.  Too weak.  As fragile as my grandmother's best bone china.  No blood in you, no moonlight, and the sun's rays lapping at whatever barrier you find to put between it and you.  You tell me you can always feel it, that it only fades when there's a whole earth between it and you.
And you won't let me near you at night.  Full night.  When you're powerful but lusty, when death and the beast are fully in you, and the moon powers you, and your skin is gleaming alabaster, and your eyes darken and deepen, colours swimming just beneath their surface.  You tell me you'd be unstoppable, that under the stars you have hungers that can't and won't rest.
"But you satisfy them, don't you?'
Some things that can't properly be said between us, certain dark wedges of truth that could drive us out of each other's arms.  And neither of us want that – even though your embrace has no warmth, and mine is ephemeral like mist.  There is death, always between us, always leaving us unequal, corrupted, tainted, unmatched.
Well, still, I wait in the little garden behind my flat, where it's all pots and paving stones, and only patches of plant life, and brief burst of colour. I sit on the bench with my legs tucked up against my chest, feet bare, hair loose, the way you like it.  Always waiting for the silence of your presence, your flickering, lightning appearance.  You fill an empty space as if it had always been full.  The clock counts.  Sweet, hurried embraces; a collection of words, some moment of paint and poetry – my heart beats faster while the darkness swells.
Stay, I think, though I no longer say it out loud.  Stay. I trust you.  And I hope, one day, while there's still time: maybe you will.  Maybe I'll dance with the beast, maybe I'll tear at its throat, unafraid.  We might be beautiful, unbearable, life-changing to look at.  I can only dream: inflating my dream with each night in which it's unfilled.
Bolt the doors.  Seal them with salt.  Mark these runes, this cross, on all the doors.  Stay inside until the sun sets you free again.  These warnings drilled into me: because the monstrous knows the monster, it knows the night.
A lonely bed.  The faint, sinister sounds of movement on rooftops. A coldness that drifts through the air.  At night, I don't sleep; I imagine.  I picture a world that can never be. A life never going to be lived.  And I picture you out there, striding on the air, just as terrible and magnificent as you think you are.
Picture credit/discredit: author's own work