No security here to cramp your style...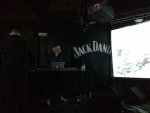 Sat, 27 Feb 2016
Remember a time when you could go to gigs, stand literally at the lip of the stage - even place a stealthy beer there, maybe the odd coat - and that was in spite of the fact the headline act was already on stage?
No? Well, to be fair, even back in the day this was perhaps unusual - though, I played a gig in a church hall in about 1988, where our considerably ropey version of Stairway to Heaven had people head banging and, unfortunately, head butting the stage.  
But, even if you are now used to a line of security guards prepared to haul you out for misdemeanours, or at least stand between you and the act, you can find a different, relaxed gig-going experience today!
You just have to look beyond your Barclaycard Arena, your O2 Academy, etc.
And, don't be thinking this kind of space is reserved for music that either sad nostalgics are creaking our their last for, or it's vibes fighting for space with the monthly bingo night, this is essential music, being created now.
Okay, it's happening in many towns, the cavern-style venues have always been there - but, if you don't nip into what Iggy Pop famously referred to as the city's "ripped backsides", you might not find it.
City centre-wise in Birmingham anyway, you'll find it mainly off Digbeth High Street. And, at the Rainbow, they still trust you with glass bottles!
And, the likes of Ulrich Schnauss (who, at the moment, is creating, with just one other person, electronic cathedrals of sound that would blow your mind) are helping fly the flag.
His is a stage set that simply consists of two people, neither of whom are directly facing the front, ranged off to the left, engrossed in digital wizardry, backed by enthralling visuals at the back of a largely empty stage made up of a scattering of monitors and Ulrich's discarded coat.  If you want DIY music that speaks for itself with no embellishment, here it is...
You've heard of wormholes and undoubtedly thought, "Nah, never get me down one of those" - Ulrich creates soundholes - and these you are simply willing to dive in to, almost like you and liquid caramel have become the same.
Forget who won large at the Brits, if you want to seek out vital music that is going on tonight, you gotta check out venues like this, apparently hollowed out from a once disused industrial unit at the back of a great pub, "hidden" beneath a railway arch.
You probably should be quick though, because they'll soon gentrify the area and new residents will complain about the noise.
Meanwhile, excuse me, I've got some Schnauss to get back to...