Story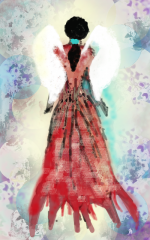 Mon, 11 Jan 2016
Smarter than her chains,
She slips in and through them,
She makes them dance to her tune.
No, this is NOT how I begin;
No, this is NOT the way I end.
She calls the shots here.
Her chains are dust around her ankles,
You try to repair them, you try to put the pieces back together.
Because you're the writer, and you say what goes.
But nothing you do, no way you arrange them,
Will ever make them fit her again.
She glows like a phoenix;
She spreads her wings.
She'll go wherever she pleases now;
That much is set in stone.
Even her shadow, when she flies, is made of light.