The Corporeal Compendium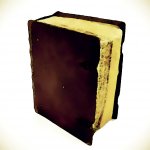 Wed, 08 Jul 2015
1 likes
You are asleep, dreaming about the pulsating powers in the dark. Light forces it's way between your eyelids and crawls up into your head. The dreams complain and leave reluctantly. Some people would consider you to be awake now. You wouldn't. Turning your head to the left you can see some glass in the wall. A window, you're almost awake. You see, and hear, the sunrise. It is particularly groan-filled and strenuous this morning. Even more so than last month. What a day that was.
It was hot last night, you have no clothes on. Not because you were hot, you just sleep nude. You get out of bed and put on gender appropriate undergarments followed by the gender assigned clothing that you really don't mind wearing, it's prety comfortable to wear clothes made to fit your body type.You walk out into your living room and see your bread roll sized pet get up off the couch where it spent the night. It knows that it shouldn't be on the couch, maybe. Perhaps it doesn't know if it should or shouldn't be anywhere. Who knows what that animal thinks about, maybe it wants to eat you. Good thing it's too small. You eat the same breakfast that you always eat followed by mass produced natural supplements because you only eat the one type of food, you unhealthy obsessive creature. You really need to branch out more, other food is good too. But hey, your pet only eats the one kind of food you buy it. No one has an issue with that.
You start up the engine of your vehicle and buckle up, if you're the kind of person who does that. You might not do that. You really should, because if the food doesn't kill you another human will. You take the advice and put your seatbelt on. The engine catches, maybe it shakes a bit or stutters because you haven't the time for maintenance. Your vehicle floats a few inches off the ground, a little low but you can't be bothered to take it to be fixed.
You arrive at work, with coffee that you bought along the way. The barista was particularly screechy when you asked for it to be iced. Apparently they were out of ice. It's not good coffee, but you won't be drinking it. Someone has scheduled an appointment with you this morning. You like to bring your clients coffee so they feel like you care. Do you care? I can't tell, but we'll revisit that another day.
You pass people that say things at you, not really to you because everyone can tell they don't care. Hell they hardly know your name. So no one cares that you don't take the time to respond. You could if you wanted to though. You might even find yourself getting caught up in a conversation about clouds, or air temperatures, maybe even precipitation levels if your lucky.
You sit down in the chair at your desk. You don't plunk down, you don't collapse, and you don't ease into it. You sit down. You have a small while to wait for the man who made the appointment. Maybe it's a woman, you don't know. But this business is inherently sexist. Women don't do the appointment thing. Generally prefering to kick down your door and launching into their choreographed dance to comunicate what they need from you. Denying them that would be oppressive so of course one lets them do as they like.  That's why they fought and died in the war for equality, so they didn't need to make appointments or pay for door repair. So you wait for the man, probably, and pull out a sandwich that you made the night before. You don't eat sandwiches though, remember? Just the other food, you only eat that. So your fingers shred off little chunks of bread and meat and throw them into the thrash one by one as you wait.
Bits of sandwich, bits of time.
And then the appointee arrives, you stand up to shake their hand. His hand. It is a man. Probably. However, you have been looking at his hand the whole time. Ever since the accident shaking hands has been a bit harder for you, understandably. Those frogs and disk rotors make for a nasty…well we won't talk about that right now, you've got a client's face to look at. You look up and find yourself in a mood some people would say is not good. It is not good. But it is appropriate.
Him again? Why in ******'* name is he so persistent? Wasn't the thirteen requests for a home appointment last week enough? Well, better find out what he wants.
You clasp his forearms and sway as you murmur the traditional prayer of greeting. Fog begins to creep in from invisible mouths in the corners of the room. The greeting ends. You sit back down. He sits down as well. He asks you something about how your morning was. You say something about screeching baristas and hand him the coffee. The opposite filtered water might as well have been iced because the room temperature is set to 32 degrees. Not Celsius, the other one. You hate this season. The other four are just fine, sometimes you wonder what the government is thinking when they make laws like this.
The man thanks you for the coffee and speaks the first line of real dialogue so far.
"You are probably wondering why the earth is the shape that it is. That's not a question I can answer so how about I answer one I know the answer to? I have been so insistent on seeing you in private because the information I am bringing to you is of a personal nature. You have been noticed by a very prestigious and secretive group of people. I am to be their spokesperson for today."
You ask what the group calls themselves.
"They haven't been able to come up with a decent name for themselves yet. Been 50 years and nothing has been passed by the committee. So we'll call them X. Now there's something I need to tell you about X's purpose. They kill people. But not directly, no they are never linked to the death and never touch the people they kill."
You raise that part of your lower forehead with hair on it. Eyebrow, that's the one.
"Let me give you an example. Say Jack wants to be rid of Jill. He wants her to be dead. So he comes to us and pays the usual fee. Jill's full name then goes on a list, a copy of which I have with me, and the list gets sent to every member of X. And then throughout the day the over 200,000 members of X concentrate their will for the death of Jill. Nothing in specific, just wishing with all their mental power for the death of that person. Then they move on to the next person on the list and will for their death. And they do this until they receive a new list with new names on it for them to think into the void and the old names are taken off."
You ask how X really kills the people.
"I told you already. Sheer willpower, the person will eventually go mad and kill themselves to get away from the concentrated consciousness wishing for their demise. We can feel that you know, humans. You ever feel like someone is watching you? Imagine that magnified several hundred thousand times. We do the killing alright, but never take a life. The members walk among us always wishing. Here is the list because I see you still need convincing."
He plunks down a large book with nothing on the cover. He lifts the first hundred or so pages up and lets them collapse onto the desk so that the book squats, open, glowing black in the nice way that some books do. He eases a few more pages over to find his place. He points to the pages filled with names, some crossed out some not. More crossed out than not though.
"The names that have been crossed out are no longer with us. And the ones that are not yet crossed out haven't been in the book for more than a year. No one has ever made it more than a year. That's 34,249 people dead, 5,170 waiting."
It's quiet impressive, not as impressive as that one time on your last birthday when your grandmother completed a rare 9th level celebration ritual by herself, but almost. You ask if the weight of all the deaths does not get to the members eventually.
"Well as I said we don't really kill them, and the members of X only ever see names. There are other people who go around telling the owners of the names on the list that hundreds of thousands of people are willing them to die, around the clock. And the hefty paycheck helps the members with any small guilt they might have. I happen to know you are having some money troubles at the moment. Unrelated of course. So what do you think about all this?"
You seem to ponder the question for a moment. Then ask what you would have to do in order to join X. It's the only logical thing to ask given that he said he didn't know why the earth is the shape it is.
"What? Oh, I didn't come here to give you a job offer. I came to inform you that you're on the list. Anyways that's all the time I have today, I'll let myself out."
He lets himself out of the room.
The door squishes shut and thanks him for coming.
He left the coffee on the desk, without a coaster to boot.
You stood up as he left without realizing it.
You sit down.
You feel eyes on you.
It was probably that damn pet, out to get you in the end.
Bread loaf bastard.