The Best Chocolate Dessert Ever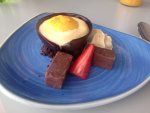 Mon, 02 Apr 2018
After our last experience of lunching out on a Bank Holiday we did have some trepidation about booking for the three course Easter Sunday Lunch at the Noisy Lobster.  We have been there a few times so far this year and never been disappointed but the Christmas Lunch experience at 'another place' still left a residue of doubt.
The Noisy Lobster is modern, light, clean pale greens and greys dominate the decor, brassy as in brasserie and not as in tasteless, busy, energetic and vibrant.  Those are all of the adjectives that my wife, Heather, and I thought of as we had our three-course lunch.  More will follow.  If linguists and lexicographers drew these words and their meanings on a Venn diagram there would be loads of overlaps but that is the way the place struck us when we checked in to our reserved table.
We were shown to our table, given a set menu sheet and had our drinks order taken within a minute of sitting down.  So far, the omens were looking as certain for a good lunch as tipping a runner in a one horse race.  Within five minutes our orders were taken.  From where we were sitting we could see the servery counter, the barrier between chef and customer, where plated dishes were left for collection and delivery by the front of house team.  It looked like the entrance to a bee hive at the height of summer only in reverse.  The person at this portal would ring a bell when meals became available and there was always someone on hand to pick up, take away and deliver to diners.  The process was continuous just like bees collecting and delivering pollen at the height of summer.
Our starters were available within ten minutes. Heather went for the 'Roast Cauliflower soup' served with a pea fritter.  I had 'Parmesan Gratinated Asparagus with Heritage Carrots, Basil Crisp Egg' served with a 'Parsley and Nettle Salsa Verde.  The poached egg inside the basil crisping was cooked perfectly.  Its yolk oozed out of the crisping over the asparagus making this a real comfort dish to start a meal with.  In case you are wondering what 'heritage carrots' are the ones on my plate were the orange that the Dutch growers had developed allegedly as a salute to their country's national colour, about the length of my little finger and a bit smaller in diameter.  Heather's soup was 'rich and creamy' in her own words.  I tried a sample, agreed with her and would add that it had a good flavour of cauliflower with some background spices that would have made it a meal in itself on a cold winter's day after a walk along the shore line.  The soup came with bread that we have to presume was baked less than ten yards away at the bakery attached to the nearby gift shop. 
Watching the frenetic activity around the serving area we wondered how long our mains would be.
Five minutes and they were served.
Heather chose the 'Spiced Butternut Squash, Spinach and Chickpea Curry with Edamame Beans' served with a sweet corn fritter.  This was a curry packed with flavour and different textures without any of them dominating the pallet.  Soft background spices warmed like a ten minute old hot water bottle rather than the exhaust from a Typhoon fighter jet as so often happens when restaurants make a vegetarian offering to assuage the consciences of those who do not eat meat. Almost as if they were doling out some sort of punishment for their life style choices.  I chose  the 'Baked Cod Fillet with Chargrilled New Potatoes, Basil and Courgette Puree, Asparagus, Clams and a Sauce Vierge'.  The cod fillet seemed as generous as Henry VIII's cod piece.  Believe me that was not the first simile I thought of when the dish was served. It was cooked to perfection with the skin on. It did not disintegrate under the fish knife but instead broke into generous flakes.  The new potatoes were sweet and the asparagus was as it should be; fresh, clean with earthy undertones.  The Thai Sweetcorn Fritter that came with the curry was left orphaned in the centre of the table.  I tried a piece and it was sadly, a bit dry.
We both chose the 'Chocolate and Mango Eggshell filled with White Chocolate Curd, Dark Chocolate Soil, Mango Yolk and Almond Fudge'.  Heather is not a great fan of dark chocolate but went for this dessert as the others on offer just looked to stodgy to follow on from her main course. The desserts were served with an 'X Factor' wow and with more substance than the wannabe stars could ever muster.  A delicate plain chocolate case filled with the curd, topped with the mango yolk.  The 'Chocolate Soil' was a spread of grated dark chocolate that the centre piece was set on.  Heather cleared her plate and is now a fervent convert to dark chocolate.
A lot of the pleasure in eating at the Noisy Lobster is watching the floorshow presented by the team as diners are welcomed, meals served and tables cleared.  The whole place runs like a well oiled machine. 
If you go there parking on high days and holidays could be a problem. There is the Avon Beach car less than a lobster pot's throw from the restaurant but this fills up very quickly as the beach is a hot favourite for locals and holiday makers.  The alternative is the Mudeford Quay car park which is much larger and only a short walk from the restaurant.
For Bank Holidays or special family occasions always book well in advance.
The Easter Sunday menu was £32 per cover and with a couple of drivers drinks our bill was £70.