Horizon by Tim Harrison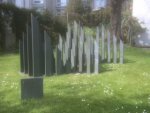 Tue, 10 May 2016
This is an installation in the gardens of the Russell-Cotes Museum in Bournemouth created by the artist Tim Harrison. 
"An experience of landscape for me is about seeing what I call roots. That is the landscape stripped bare with its essential physical qualities of structure and material revealed".
I can see that quote in Horizon which comprises of a series of geometric vertical stacks. Like natural formations, there are patterns but each part of the pattern is incrementally different.  They are arranged, in my view at least, to show the geological structures lying under ground that support a green and pleasant land of rolling hills and verdant pastures.  Just as computer graphics can rotate an image of an oil field Horizon can be rotated by walking around it looking at it from different angles and heights.
The installation also shows us the importance of not only enjoying our physical surroundings from the surface but trying to understand what forces have created those surroundings and what is supporting them.  This concept can also be transferred to how we understand the human world as presented to us by the media which with all of its best intentions in its soundbite frenzy can only scratch the landscape of human activity and it is up to us to dig deeper to truly understand what is supporting those events.
I would like to think that the peaks of the vertical stacks when joined with continuous lines of contours would look like the nearby hills on the Isle of Purbeck visible from the cliff walk outside the gardens. I would also like to think that Tim Harrison was influenced by Stonehenge so that Horizon is a confluence of The Purbecks and Stonehenge.