Bring Back the King, But Find Him First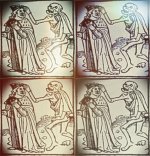 Sun, 22 Jul 2018
Some kings are not supposed to lie easily in death. Take Mary Queen of Scots.  At first she was put to rest, if not ignominiously, then without full honours, in Peterborough Cathedral.  When her son became James I of England, nothing less would do than to give her the full, symbolic honour of reburial in Westminster Cathedral.
   The monarchs of Scotland who have met their end in England have not been lucky with their ultimate resting places.  Worst of all was King James IV who, after his death at the Battle of Flodden in 1513, was wrapped in lead and conveyed to Berwick and then to Newcastle.  The Queen of England (Catherine of Aragon) wanted to ship the corpse to her husband Henry VIII who was fighting in France.  But the idea seemed a bit un-English, not to say impractical, to the commanders in the north of England.
Then came an almost comic tussle over the Scottish king's remains.  Bishop Ruthal of Durham had already nabbed some keepsakes of the king for his cathedral and wanted James's body as the centrepiece of his collection.  But the victor of Flodden, the Earl of Surrey, would not have it.  So the corpse was conveyed south.  After this the tale gets a bit muddy.  A story that the corpse was displayed naked on horseback in the streets of London is almost certainly untrue. The corpse was in fact stored in a lumber room in a monastery at Shene in  Surrey while Henry VIII deliberated what to do with it.  Then it was forgotten by most.
   Yet even that  was not the end of the indignity.  Queen Elizabeth's glazier, a rogue named Lancelot Young, took it upon himself to remove the king's head and use it as a football.  It was later given a, sort-of decent burial in a London churchyard.  The rest of the body, it seems, lies buried in the ruins of Shene, perhaps where peaceful Richmond Park is now.  In the light of the recent discovery of King Richard III in a carpark in Leicester, calls have been made to seek out the remains of the Scottish monarch.  Will it actually be done?  I doubt it.
   History is full of could- have/would-have be's.  Perhaps the best chance of a dignified end for the king's remains would have been if Ruthal had his way and the body remained - for a time at least - at Durham.  At least there he would have been within restful distance of Scotland.  There would have been a chance of eventual repatriation for the body too. After all the marauding Malcolm Canmore was at first interred in Tynemouth Abbey, but then brought home to Scotland by his son, Alexander.
   Is there hope for the return of James IV still?