Fare...well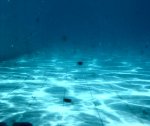 Fri, 05 Aug 2016
... "It's a bit like trying to get
out of a swimming pool," he said,
his back against the wall, bricked edge
eating into his small-ness, palms
resting unused, elbows angling towards the sun.
"Yeah, ... and hoping no one will
notice," she said, draining away along
the raised walk, the yew shades dark and
pleading like her soul. And,
the constellation of night shone briefly
through the cloud, the murk of the
day, and the sprite light sparkled and
wept.
"Yes, ... a bit like trying
to get out of love," he said inside,
the clouds a held thought, easing
himself up and out, palms
flattening into the crusty, crannied brick,
out from the semi-circular space, cedar
centred; it had turned around him
as he waded through the lush of nettles,
nestling around a small silver, cream
fleck of remembrance fastened to
the slightest stick, a note to note
where the ashes had poured, dust
to earth, ashes to stems, feeding
pin-snips into life.
"Who is it?" she would say, as
you eased the door open, to ask her
her wishes, and her trapped by age into staring at the
blue sky at the screen of flash and image,
pin-pricks of intensity. "It's me, David."
And then, it was "David, David, I need
you to find ..." .. to find the accoutrements,
the appurtenances, lost, displaced, disarrayed. And then,
the time to marvel at her mind, at
the spakle in her eyes, the constellation of
night shining through the murkiness of day. You
came to help but you came to be
healed, David. The pin-pricks and
pin-snips, the barnacle accretions,
the quiet that she brushed away,
dear Nonny.
Each ...
each meeting is a life
and a death - the
tunnel opens from the
darkness into the light,
flecks of warmth across
the soul's skin - exposed
and translucent - the
blood flows, the heart
talks in a stutter and
stammer. And then -
whoosh - back into the
dark as the eyes widen
and narrow and
the unsaid is unspoken.
But maybe she knows,
the she easing half-way along
the walkway,
and the one releasing up
into the beckoning sky.