December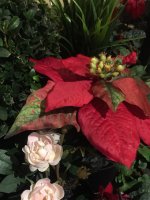 Wed, 02 Jan 2019
Cold winds whistle through the trees
through the trees and dimly-lit alleys 
a chill to freeze the night. 
Smoke drifts between the drunks on the streets
on the streets they wander with no real place to be
a whisper of the year gone by. 
December sings a tune of mist and fog
mist and fog shroud the distant spring's song
a weeping winter sigh.
A voice echoes through the annals of every hall
every hall taunts of the recently-deceased fall 
another day is nigh. 
I stumble through creeping thoughts of you
thoughts of you which tumble to and from view 
a distant January sky. 
We struggle to bridge the miles between the days
between the days the warming sun lazily lays
a moon to endlessly shine.
We are painfully trapped within the seasons
within the seasons the earth spins as it pleases
a yearning hope for you and I.
This December tastes of a bittersweet melody 
a bittersweet melody longs for eventual spring
a dream creeps slowly by,
and I will embrace the winter's chill.
(forgive some of the grammar issues which off-rhymes superseded)