Graffiti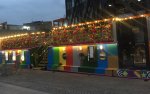 Wed, 05 Jun 2019
When I saw you again, I swore I propelled myself so hard, I'd pass right through you.
But your arms were open to catch me, so instead I lodged myself right into your heart.
You carried me with you across the ocean. And though I don't feel at home where I am,
I know that I'm truly with you all along. And when I see you again and am made whole,
will you share your heart with me too? So that I may take it with me across the ocean
and in it find solace for my fears when I'm in the throes of loneliness.
Knowing that whenever we see each other next, we will etch our initials and the date
on the limestone walls surrounding our hearts, scratching away a bit of the time,
a bit of the distance, every time we're together again.
And one day we'll return to the old scars and smile, remembering just how hard we worked
to build the home we'd dreamt of together.