some lone.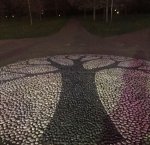 Sun, 28 Apr 2019
some lone.
I woke up to darkness.
Not a midnight, nor a twilight darkness.
Not the depths of a cave sort,
Not the darkness that lives behind the eyelids.
It was cold,
and silent,
and I felt it penetrate the marrow of my bones.
But I knew I had awoken.