The Lie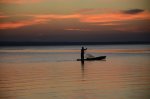 Sun, 12 Apr 2015
You claimed I'd come back in the fishing boat
alone, greased with the old man's blood
him slit open, tossed overboard, gnawed
by seals. No, I said.  He was out there.
Your tale travelled. Now the town 
kept its distance. Kids pitched stones.
You honed your grudge, blew it up 
with a rumour, stirred the waters 
of chaos. I took the form you made.
A bad spell. In the bath I scrubbed
and scrubbed. Nights I tramped the beach
shouting for the old man. He was out there.
Steadily waves broke on the bare shore.
My life was a foreign body, a lie. 
Soon I'd find words to expose it.
@ianjmclachlan