Underpass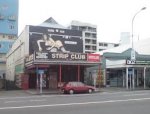 Sat, 21 Mar 2015
Cruising the alien precincts: blue
signs, subways; trucks shudder
past. Slowing for directions,
Are you going that way too? Cut.
This waxed cloth we daily model
so much skin. Slate clouds. Rain.
A sense the land knows no other weather.
And the turbo-charged Friday nights
glugging cocktails in red-lit bars
bawled monologues, reeling
faces, arms; beyond, still skyline.
Or skin on a loom, stretched
layers to be woven, pallid,
without reflection. Amazing
what they'll pay for such a suit.
In the bare room, tangle of sheets
bedside lamp on, it's just skin
you tell them. Their heads shake
defeated they return to their cars.
Come walk with me in the dark river
ankle deep, knee deep, waist deep.
Cast off your skin, let it drop
to the river bed. Like lanterns
submerged, bruising a foreign
world. You kick for the surface.
@ianjmclachlan