Allhallows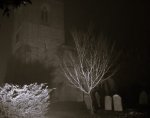 Tue, 31 Oct 2023
The church clock strikes the midnight hour,                                           
and the children now have long gone home;                                                      
with their costumes folded and put away,       
Halloween is passing to another day.
In the graveyard unquiet spirits now bestir,         
as memories that were retained in the bone,        
this being the time they arise from the earth,    
to leach dead emotions so they be not alone.
Emerging ephemeral into the air, as                                 
negatives no longer printed as lives,                            
with no one there to see they cannot be     
corporeal, as there's nothing left to shrive.
Only memories of who were once alive,                          
that have now passed on while leaving behind         
imprints that seep into receptive minds:      
dreams and portents dissolutive by time.
Meanwhile, parents and children rest asleep;      
all safe now and tucked up in bed, and the                
Saints will not disturb their rest; for as the           
Prophet said – let the dead bury the dead.
© D G Moody 2023