Late September
Image: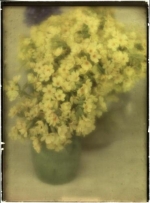 Fri, 16 May 2014
Still life was the challenge of the new term.
Maria, whose yellowed fingers would later
take the charcoal from my hand and crush
the burnt willow, watched patiently, waiting
for some pause by the newly crowned students.
Art was now under our feet and in the easels, the empty
walls and the hum of the room. It was in the leaded windows high above
and the light from a low sun that danced and flickered
to the pulse of the outside world. Maria gave the lesson.
We had been given choice; a box filled with
ageing fruit and a variety of misplaced crockery
that was grabbed at and shared amongst the crowd.
Maria passed me an apple and asked me to imagine
its core and the taste of its flesh. To ignore the shape
and discover its weight, its science, its history.
Her dress shone like neon in the light. Marks were made
on paper; the hall became quiet. Winter was upon us.