Deadly Beast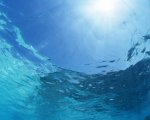 Sat, 12 Sep 2015
Every scream replaced with air of bubbles, every struggle completely denied. Oxygen slowly slipping away, like drops from a saline bag.
Memories of all those skipped swimming lessons long since forgotten, regret creeping in like a long awaited 'I told you so'.
The cold slowly taking hold, every movement becoming restricted.
The thought of being regurgitated like a badly received medicine, or being digested as a memory, a warning to others.
The deadly beast had made another great catch.