One Step Ahead! 240 Words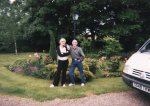 Thu, 19 Mar 2015
One Step Ahead! 240 Words
I woke up with a question on my mind,
When did you decide to leave me behind?
You agreed that I could be the first to part,
Instead, you've left me with a fractured heart.
Did you know that was how it would be?
Were there signs I just did not see?
Is that why you left me to walk alone?
Because I failed you; I should have known?
Please tell me why, was it to punish me,
Because of my lack of sensitivity?
The pain of it is something I can't bear,
Were there symptoms of which I was unaware?
Fifty years together but still too brief,
Although there is no ticking clock on grief.
I wanted much more time than you could give,
Is that the reason you sentenced me to live?
Help me now out of this trough of despair,
To leave me in this abyss is so unfair.
For our daughters' sake I must carry on,
But without the one person I depended upon.
Will I ever look forward to tomorrow,
And reject this all consuming sorrow?
In company my tears must remain unshed,
But how I wish they could flow freely instead.
Though to friends my visage will show dry eyes,
And I have a smile ready to hide their lies.
But to make a life I must bury the pain,
Then with God's help, I might learn to smile again!