1979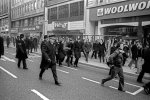 Mon, 11 Dec 2017
1 likes
Bang, Bang
By nineteen-hundred-and-seventy-nine
Punk, spitting and screeching,
had been and gone
and the records
were all stiff pub-rock,
novelty and ska.
I was already up the junction,
Squeeze-style
(I remember her smile
and the urgent, inexpert sex).
I had voted
according to my conscience
but the Grantham Greengrocer's daughter won
for better or worse,
which words I was soon to say
for the first time.
Crossley Hall
We sold bricks and tiles
manufactured at kilns
all over the county.
An open plan office,
the sales department
with a typing pool,
the chatter of the keys
counterpointed
in alto and soprano
never baritone.
Men Only salesmen…
I was a drone
I was not alone
every flashing on a key lamp 'phone
identical to another
dozen telephonic men…
We saw sales reps once a month,
the sales manager's corner office
too small for Guy and Ralph and
… Was it Reggie?
There were rumours about Our C.J.
and his Joan, though she was plain
and we claimed The Monks
song as her theme tune.
I hope she was oblivious.
Guy
Guy stood tall,
regimental tie alternating
with old school,
depending on the client;
Qatari Sheikh
or Barratt's buyer.
Almost sixty,
there were rumours of
the death railway
and breakdowns,
but not of rolling stock.
One day he sent me out
for shoe polish.
I couldn't drive,
paid for a taxi
out of my own
wallet.
I bought Cherry Blossom,
not Kiwi.
I'm ashamed of that.
Ralph
Thirty-something,
Roger's Bond smooth,
even wore a safari suit once,
but the next day
he had an interview
with the Chairman
-Mr Usherwood to me-
and he got no coffee,
or rich-tea biscuits.
There were rumours.
Of course there were.
The dowager queens
of the typing pool
loved him,
as much as
they loved Larry Grayson.
He was married.
Doug
Doug gave me a lift to work
every day, except when he was off.
The car was a Vauxhall Viva,
a "family saloon".
He listened to Radio 4,
because he cared
about current affairs,
and I didn't.
Twenty five years
at the company,
he had an office
and the title "office manager",
though I don't know
what he did.
Doug's accent was as exotic
as cargo on a South Sea Island,
he'd washed up from Eastbourne
into the cold North East,
after a chance encounter
during National Service.
Doug looked like Alan Whicker
right down to the tie,
moustache and glasses.
He wasn't as interesting
as the TV Traveloguer.
Or maybe I wasn't paying attention.
Another Country
The trousers were skinny,
there was white towelling
above the shoe,
amongst us Sales Clerks.
Later
David Mamet's play
made me laugh.
The past isn't so different,
but there is always
something to mock,
if you're young enough.
I left,
in those days,
you could leave one job
and get another.
I took a uniform
and lost a wife.
It was careless of me.