A Crowd of Shades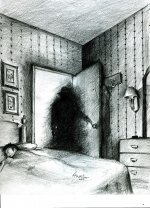 Mon, 02 Dec 2019
They are whispering,
just out of earshot.
The boys you played football
with between staked saplings
where it was best
to miss by a mile,
rather than hit a post.
The girls you kissed
behind a portakabin
classroom, their summer
dresses short,
but innocent of temptation.
The first teacher
you can remember,
Mr Poll - brown as a coffee bean -
no-one called him names,
you never thought of it.
Other teachers flicker
like super-8 footage;
Miss Clydesdale,
anything but horsey,
married a RAF Officer.
Mrs Beveridge, fierce,
fifty, fought to keep
the school studying
spelling and doing sport,
though she looked like Joan Sims.
They are whispering,
a crowd of shades,
distant, but growing closer.
you'll hear them soon.
Do you wonder
what they'll say?