The Picture Ranch 17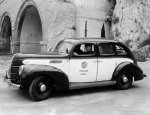 Tue, 23 Aug 2016
I hadn't been charged, arraigned or even formally arrested, so if the Irishman hadn't locked the door behind him, I could have just walked out of the station. About an hour later, Flaherty came back alone.
'Just a few questions, Mr Fisher and then you can go.'
'Mister now, is it?'
'You are one lucky sap, Fisher.'
'How's that?'
'Scott was encouraged to transfer out, a few years ago. We had a clean-up since Chief Davis took over again, ya might say He's San D's problem now.'
'What squad was he with?'
Flaherty debated answering and lit himself a coffin nail meanwhile.
'Two years in Vice and then the Red Squad. You know what the Red Squad is, don't ya? Now how 'bout I ask you some questions?'
I did know, it was the Goon Squad Davis had set up to deal with the Unions, so I nodded.
'Knock yourself out.'
'What were yuh doin' at the Red Menace? Why d'ya need the big fellah?'
'I was looking for someone. The dead doll knew her, once upon a time. The big guy got me in, he's a member.'
Flaherty snorted, 'Well I can't hold yuh, even if you won't answer a simple question.'
He escorted me as far as the front desk and went back to wherever the Homicide detectives hung out between bodies.
I waited until the desk sergeant finally realised I was still standing in front of the desk.
'Help you?' He sighed and added 'Sir.'
'I'd like to report two missing persons.'
'They both go missing together, male and female, I mean.'
'No, it ain't like that…'
'It never is…'
I put both hands on the desk and leaned in.
'Just take the report, Sergeant.'
'Okay, keep your shirt on…' The man looked for the right form. I told him he'd need two, so he took his time finding the second.
'Name?'
'Eleanor Gräfenberg, age 35 or so. Brunette. 5 feet 5 inches. Wears eye-glasses. No record that I know of. No known aliases.'
'Missing since when? And from where?
'Over 24 hours. She has a place on Acacia… in Encino.'
The Sergeant threw down his pen,'Why in hell aincha tellin this to the County Sheriff's Department?'
'Because I was brought here, hauled off in the course of my investigation as to the lady's whereabouts.'
'Name?'
'Didn't you write that down when I arrived?' I'd seen him do it, but I wanted to needle him.
'Yeah, well we get a lotta people pass through. It ain't as if you're Jimmy Cagney, huh?'
'No, he's taller in real life. My name is Fisher, initial M.'
'I remember you now. Mick Obber, ain't it.'
'Why not?'
The policeman made a great show of signing and stamping the sheet of paper. Then he picked up the second sheet.
'Okay, who else has taken a powder?'
'William Mulvaney, aged 16. I don't know what he looks like. Disappeared from Carlsbad-
'Carlsbad? Come on, Fisher that would definitely be San Diego PD's potatoes, wouldn't it?'
'I guess it would except William Mulvaney is the other missing party's half-brother.'
'And they ain't skipped town for a little family funny business?'
I didn't like the look on his face and for two-bits I'd have changed it to one of surprise with a left hook.
'No, the boy went missing a year ago.'
'Mister, you sure are tryin' to waste our time.'
He signed his name and stamped the paper. Maybe a typist would type triple copies and wash the blue carbon off her fingers after she did it, and maybe she wouldn't. But that wasn't the point. I'd shaken the tree, it was time to see what fell out; the cocoanuts or the monkey.
It was two in the morning. The sodium street lights hurt my eyes and I had too far to walk. I hailed a cab so I could pick up the Flivver over by the Red Menace. The word 'Closed' was painted across the hatch in the door, but I wasn't going back in anyway. It was time to hit the California Hospital on Hope Street. Since that was the closest available, there was a chance that Moose had been admitted there. Maybe someone in the Emergency Room would remember the biggest patient of the night.
The dame on the desk hadn't seen forty in any mirror except the rear-view kind for a while. She was in whites but I guess she wasn't a nurse as her fingernails were crimson and her lipstick was too.
'Do fer yuh?'
'Get a patient last night? Six feet and some? Big shoulders, small head. Mighta been knocked about a little, even unconscious.'
'You the cops? They said they'd come back but they didn't.'
I shook my head. 'Where is he?'
'There's a fifty dollar account outstanding.'
'What, he had some plastic surgery? I sure hope he's handsome now.'
Her long crimson nails flicked through a few files.
'This is him. Marian Murgatroyd. That right?'
Marian? No wonder being called Moose didn't bother him, I shrugged.
'Maybe…'
'Age 37. We had some medical records for him already.'
'Really? What happened?
'That's confidential, naturally.'
I laid a five-spot on the desk.
'Emergency orchidectomy.'
She even gave me the date. It was the day I'd left him behind in Chinatown, the last time he'd helped me out.
'Follow the signs to trauma, it's on the second floor. He's in ward C. Might even be awake.'
Up on Ward C, Moose was in the bed furthest from the door. Most of the other beds were occupied and many patients were in traction. The snores and the nightmare yelps were constant. The big fellah was awake.
'Hey, Fisher. Visitin' hours is over.'
'You OK?'
'Mostly hit my head this time, so no damage.'
'You never said, about Chinatown…'
'You never asked, Fisher.'
There was nothing I could say, so I changed the subject.
'You get better. I'll do this thing on my own. I'll take care of the bill here.'
Moose nodded his head slowly. It must have hurt,
'You be careful. This might turn out worse than Chinatown.'
Not for him, I thought.