The Picture Ranch 46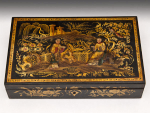 Thu, 22 Aug 2019
We had our hands in the air before he waved the pistol upwards. One button was missing from his shirt and one end of his celluloid collar had come adrift from both his shirt and his neck. Randall Scott came in behind him carrying a japanned tin box about the size of a preacher's bible.
'Got what you came for, huh?' I gestured at the box, figuring that maybe he'd tell me why Miss G and I had returned to The Red Menace, since my client hadn't bothered.
'We have, keep your hands up, Mr Fisher.' Boethius waved his pistol again.
'What's so valuable you'd come back to a crime scene to get it?'
'Fisher, you ask too many questions and they are never pertinent.'
Boethius pointed the pistol at me, at a place just below where the groom wears a buttonhole. I saw his finger tighten on the trigger.
Scott shot Boethius in the back of the head. Some of the brains landed on Eleanor, she didn't flinch. Just stained her kid gloves red when she wiped the mess away. Then she held her hands out to Scott, who gave her the box.
'That is our business concluded, Mr Scott.' She said, right before she shot him in the eye with another one of those dinky pistols.
I closed my mouth eventually, just after my client forced the tiny pistol into Boethius's dead hand. Eleanor went over to Lupe. She was still sitting on the edge of the stage, a turkish cigarette hanging from her lower lip and an empty glass in her left hand.
'You should leave, Lupe.' Miss G made it sound like advice, maybe it was.
Lupe Cantarillo nodded very slowly, but stayed put on the edge of that stage, staring at nothing at all. I wondered what she'd tell the LAPD. She gave Eleanor the high sign and Eleanor gave a sigh.
'Let's go, Fisher. Be a good boy and I'll tell you what's in the box.'
I didn't ask, not after I got in the driver's seat, not after she said drive over to Mulvaney's place in the Hollywood Hills and not when she turned to me when we passed the gatekeeper and said 'Well..?'
We abandoned the car on a drive that looked like it belonged in front of some titled limey's ancestral home. Of course, Mulvaney's place was Spanish colonial, a real heritage place, maybe all of twenty years old. We were standing outside the door, I was carrying the tin box. She yanked the bell pull.
'It's the coins, Fisher. In the box.'
I had figured that out for myself, what I couldn't understand was why we'd brought them to Mulvaney.