Rattlesnakes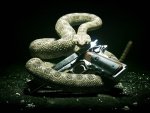 Tue, 08 Jun 2021
You scan the room
because Becca is
late, as usual.
You catch an eye -
it happens, come on -
by accident, sure.
He looks nice enough,
smart, like someone
with a job that needs that.
You don't look away and back,
you don't look at that part
of the room again.
You're smart too:
you don't go close enough
to hear the rattle.