Golden Crown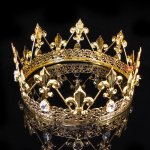 Sat, 23 Mar 2019
You named me ugly,
and you called me weird.
You unheeded my plead,
and met me with a sneer.
I never heard those nasty words before,
never in such a cruel manner anyways.
I was innocent to the malice in this world,
until you came and showed me your ways.
Once upon a beautiful time,
we were the best of friends.
Then you committed a crime,
in which I can never forgive.
You said to me that I was worthless
and that nobody could ever love me.
You called me invisible and useless.
Why can you not just leave me be?
But your disputes no longer wound me now,
I have long gotten over you and your words.
You seem upset with this and can only frown.
You once felt like a queen among many lords.
Can you see me now,
wearing your golden crown?