A Stitch In Time, Saves Eighteen.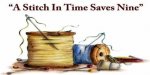 Thu, 31 Mar 2022
1 likes
Our Daughter Meghan bought us a dishwasher four years ago, I usually empty the dishwasher in the mornings first thing, even before I feed the cats! I then load the dishwasher and switch it on. One morning last month I didn't have time, so I left it for Paul to do when he got up.
Now when I do the dishwasher, I wash everything first and put it on a 30c temperature wash, I found out the following morning when I went to empty the machine,  after Paul had done it, that nothing at all had been washed first, but all of the food had not even been scraped off but piled on top of each other, even though he had put it on 60c so instead of putting clean dishes away I had to wash everything and put them all back into the dishwasher, so everything was wasted, the tablet, the electric, the water and his time. I decided to have a little word in his shell like, to let him know how it's done, but I forgot, and then I thought it didn't matter as I'd be doing it every morning, but last week, I again ran out of time and left it for Paul to do and again exactly the same thing happened!
Again, I decided to have a word in his shell like, but thought against it, as it might upset him, for it would be awful to break his spirit. So, I just left it and said nothing.
From tomorrow gas and electric will go up a lot, I will let Paul know that my plan is to use the dishwasher every other day and not every day, as it's not an essential! I don't know how long this will last, but I have to give it a go as I've heard that each month, we will be paying up to five hundred pounds more a month! Mercy! I will also wash a fuller washing machine, that too now will be on 30c instead of 40c for our clothes.
I have found my bendy lamp gadget that attaches itself to my laptop, so with its USB connector it will be saving me money, plugged into my laptop, along with my mobile phone and watch.
From tomorrow I won't put the heating on, my cuppa will warms my hands and with my warm long dressing gown, I'll soon be feeling as snug as a bug.
It's better than using candle light, and safer. Subtle changes can make all the difference, like socks, layers and onesies. It is usually just me in the mornings on my own, so it's OK, later on with the rest of the family, the heating can go on then it will be worth the sacrifice, but not everyone is a 'lucky' as us, some people won't be able to have the heating on at all, morning, noon or night. So, kids and older people, some will suffer. It must be a very worrying time for those adults who are on the breadline.
The fabulous Martin Lewis and his consumer programme has informed us today to take our meter readings and email them in, so at least April will be cheaper than May. I passed this message on, to all in my contacts on my phone and some tried to ring in with their readings, only to find out that today of all days, some gas and electric companies, they chose to do MAINTANCE, what a deliberate cruel act! They must have got wind of what Martin had told us, and some sites just crashed, others could not get through, but some took pictures of their readings, so tomorrow they can still give todays reading.
It will be a challenge, my daughter Meghan has just told me, "I'm putting my electric blanket on!!!!" She Will have to start paying board!