Updated. Part One.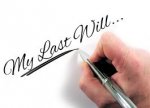 Tue, 05 May 2020
Earlier this year, I went many miles to update my Will. I had let it lapse for one year, having paid for it to be kept at the solicitors for ten years, which cost me £20 a year direct debit.
My Husband has never done a Will, nor does he have any desire to, he just talks about what he would like to happen, but what good is that?
I can't now remember how much I'd paid the first time, all those years ago, I'm guessing it was a special offer and could have been around £65 but I can't remember. This year I knew it would be a lot so instead, I looked at different ways of doing a Will. I did buy one from WHSmith £30 but it was too hard/complicated the one single sheet for the UK. I heard that you could just do your own, but have Witnesses and let people know where it was kept in the home. I didn't like that idea, in case after my death, it turned out to be no good! What would be the point of that? Really at the end of the day, if a job was worth doing, it was worth doing well.
So, against my Husbands wishes, with my own money I paid £150 to update my Will. After all, he can't say much, for he has no Will. It was a lot of money but I was now keeping my Will at home, so I was not paying them to keep it for me.
Two weeks ago, the Executor and Trustee, who was in the first ten years of my Will and he was in the new Will, he was very mean to me. He said some very cruel words, but he said it in the group two other people were in, they were VERY shocked at what he said, I was speechless, and that takes some doing.
I decided not to let him be my Executor and Trustee. I thought I knew him and could without question trust him, how wrong I was. I think I would have trusted him with my Life, before he said those words. Sometimes in life, when you think you know someone, you just don't. I wasn't hurt, just disappointed. Life is too short to be angry!
I rang the solicitors last week, but they were closed. I rang again yesterday they said on an answerphone to, "Email us."
I emailed them yesterday, and told them that "I wanted him removed off my Will altogether, that I didn't want him to have anything whatsoever to do with my Will," Instead I included four names and their mobile phone numbers. I wanted these four as my Executor and Trustee. I soon had an email back, they wanted my, "Full name, address and reference number," This I sent back quickly to them. It felt good that everything was falling so quickly into place, without any hassle.
Just before I came out for work today, I read my email, and basically it said, "It will cost you £150 to take him name off and £210 for two people to add their names on and £210 for the other two to add their names on!" So, it will cost me £570. He wanted to let me know, "Do you want me to go ahead with the changes?" He went on, "I will send you the invoice." I replied, "Leave it as it is, but I make it clear to you, I do not want him in anyway involved with my Will."
I was very disappointed, I would never recommend them, it feels like a kick in the teeth. It has put a damper on my day. I know I can't tamper with the Will that was made clear to me. But I have hand written a note with it and have included it in my Will and dated it. I intend to get others to sign it too and date it, that is my aim.
How, can they sleep at night?