Grand Opening (Downtown Abbey)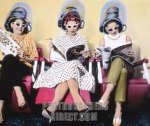 Sat, 17 Sep 2016
Rose was so full of joy she could almost burst open with happiness. She put on a jazz record and danced with the dog to relax. Saturday was the grand opening of the beer garden. Henry, Mary's  late husband came up with the whole crazy scheme. Right before his fatal fourth coronary. It came to him in a dream of all things. Cousin Mary made everything come to fruition. That was her forte. George, Mary's oldest son had begrudgingly helped.Rose has splurged and got a new hairdo. It looked marvelous.
No Shrinkin' Violet' was the most popular beer in all of Europe. With the war finally over and  england slowly recovering , it made all the sense in the world to have part of the grand estate set aside as a tasting room and a museum for everyone to visit.Tourists might like admiring the beautiful grounds and watching how their favorite beer was made before it was sent to various factories all over the world.The locals certainly liked the idea of it all.Truth be told ,they were driving her mad calling every day to see if they were open yet.Anything to keep Downtown Abbey alive and breathing.There were only a handful of the old estate houses left.Mary wouldn't let the grand old place slip her fingers for nothing.
"Downtown abbey , Mary often said, has been an institution since Queen Elizabeth 1 was at the height of her powers,and I will not end everything now."
Mary was like a pitbull was a bone in her mouth when she really wanted something.It was most important she always get her way in these situations. Which was both a blessing and a curse.George often mumbled it was only a curse. Rose hoped mary wouldn't dress head to toe in black tomorrow.
Mary looked like a aging vampire in that depressing dress and frumpy veil.It was almost tragic.She had been mourning henry for nearly a year and a half now.And before that, she and henry both mourned the death of two of their sons killed in action at the end of the second world war.Perhaps,Rose could sashay up to the wardrobe,switch out some of the sad sack dresses for some more vibrant ones, that sat in the back of Mary's wardrobe. They would be a tad loose on her, because Mary ate like a bird nowadays. It might make her feel happy again.
Almost everyone was coming.Several Jews that Mr.Branson and Mary had saved from the horrors of Hitler's gas chambers. The old servants that hadn't died or succumbed to the insanity which had been the thirties and forties were all coming. Their was a rumour the new queen and her husband Philip might make a special appearance.Mary and her both laughed and said they would eat their hats if that happened.
Mary's younger sister, Edith refused to come. Because of that petty row Edith and Mary had at Granny's 100th birthday party eleven years ago.Rose had called three times and begged her to come, but Edith's very rude assistant always said she was busy on her novel and mustn't be disturbed. Neither of the sisters could remember what the squabble was even about.Only the rotten resentment that had plagued them since they were girls. Edith's daughter, the bohemian cartoonist was coming in all the way from California on a plane.She was bringing a friend.Rose wondered if it was a beau.She had forgotten to ask.Darn it.
Suddenly Rose felt quite sleepy and decided to take a nap.Just a little one.She would keep her spectacles on her face so she wouldn't lose them again.She had been running around like a mad hatter for weeks now.Saturday was going to be a day to remember.She could just tell.